Family – It's the Little Things that Count
Family and the Little Things That Count
Family comes in different makes and sizes and today, I want to share a bit about my Stampin' Up! family.
My uplines, my sideslines and my downlines in my life have become my friends and I consider them to be my extended family.  Where would I be without them?  They are there to support me and my business, they are there to chat and to share good times.  SOme live in the same city as I do and some don't.  For the ones here, I see them often to share latest techniques, get one on one support and for those that don't live here, they are only a phone call away or it's often a Facebook message away.
This year I celebrate my 4th Anniversary as a Stampin' Up! demonstrator and I received a card from my fellow demonstrators.
I don't know who created the card I received but I was very honoured and thankful to have received the recognition.  Here is the card that I received.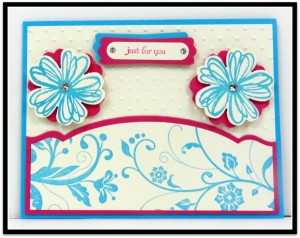 This card uses the stamp sets Flower Shop and Flowering Flourishes which I love and the colours are so bright and cheery.  The stamp sets are in the new 2014/15 Annual Catalogue but unfortunately the Adorning Accents Edgelits are being discontinued.
You can still purchase the Adorning Accents Edgelits if you do it before June 6th when the retired list goes away.
Do want to be a part of a family which supports and encourages you?  You can become a Stampin' Up! Demonstrator by signing up today.
There are 2 ways to do this…
For the next month, new recruits that join Stampin' Up! can do so at the traditional Starter Kit priced at $125 ($155 product value), or for a limited time, a reduced priced Starter Kit at the low price of $60 ($65 product value.)  However, to take advantage of this promotion you will have to sign up as a demonstrator before June 30th.
During this offer, the special $60 starter kit will also be accompanied by $65 in free products; the regular $125 starter kit is also still available.
Guess what else you can receive…
Receive free convention registration!
A Free paper-pumpkin kit will also be included in the starter kit.
Get two FREE months of Demonstrator Business Web Services (DBWS) if they sign up for the DBWS within their first 21 days.
All starter kit orders must be finalized by June 30, 2014
Do you have questions?  Email me with those questions and I will do my best to answer
or
if you are ready to do it, and complete the Independent Demonstrator Agreement (IDA)

Happy Stamping