Birthday Card CASE from Stampin' Up! 2014/15 Catalogue
It's A Birthday Card CASEd From the New Stampin' Up! Annual Catalogue
What is a CASEd Birthday Card?  CASE is an acronym for Copy and Share Everything and that is exactly what I did for this card.  Of course the card is not cased exactly as I switched up a couple of the products used on the original.  In doing so, the Birthday card has become mine..
Casing a card or a scrapbook page is great when you loose your creativity and often this technique will get you back on track.  Lots of times I will see an idea somewhere and then build on it.  How often do you start out with an idea and then go completely off track and your creation is not how you envisioned it when you started.
That happens to me quite often because as I go along, the idea I started with often gets derailed as I decide to use a different colour or different stamp or not add an the embellishment that I thought would be great.  Oh well!  Creativity is great isn't it?
Here is the card I cased from the 2014/15 Stampin Up Annual Catalogue using Mosaic Madness.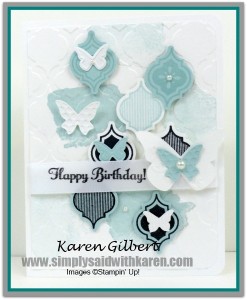 Stamps: Mosaic Madness (c-130249, w-130246 p163 2014/15 Annual Catalogue), Happy Watercolor (c-1133191, w- 133188, p22 2014 Occasions Catalogue).
Paper: Whisper White, Soft Sky.
Ink: Black Stazon, Soft Sky.
Accessories: Big Shot, Modern Mosaic Embossing Folder, Beautiful Wings Embosslit, Project Life Corner Punch, Mosaic Punch, Pearl Jewels, 5/8" Whisper White Satin Ribbon.
The background was stamped using the watermark stamp from Happy Watercolor and embossed using the Modern Mosaic Embossing Folder.
The sentiment was stamped on the Whisper White Satin Ribbon using Black Stazon.  Black Stazon ink is the ideal ink when stamping on other medium as it is a pigment ink and will not run.
So, when you run out of MOJO and your creativity has taken a holiday, use a magazine, or something you have seen on the interest to get that creativity going again.
Happy Stamping