Use Brusho Crystal Colors To Create a Watercolor Scene
Have you tried the Brusho Crystal Colors from the 2018 Occasions Catalogue? Another tool to add to the watercoloring chest.  There are several different ways to use the brushos.
I have added a video so that you can see how I used the colors to add a sunset to my card. For this card, mix the brusho colors with water and apply the color with the Aqua Painter Brush.  This method allows you to control the brusho easily.  Or, somewhat easier.
The first time you add Brusho to your cards and/or scrapbook pages, it is best to practice, practice and practice.  Don't be hard on yourself if your art piece doesn't turn out exactly the way you would like it to look.
A few details about Brusho Crystal Colors:
Brusho™ is a crystal powder that interacts with water.
You can use a water spritzer to move the powder around. It is easier to start out with a bit of water rather than too much water. When the water hits the crystals, they burst and float on top of the cardstock and/or paper.
Use watercolor paper or Stampin' Up! Shimmery White cardstock.
Brusho Color Crystals in 5 colors: Brilliant Red, Gamboge (orange), Moss Green, Prussian Blue and Yellow.
Do not remove the lids from the pots as the color crystals are very fine and will fly over everything and what a mess to clean up.  Instead us, the Paper Piercer Tool to poke holes in the lids.  Cover the holes with pin tacks.
When using the crystal colors, sprinkle onto your paper and spritz water or sprinkle on a block and add water and pick up with Aqua Painter Brush.
The video takes you step-by-step through the process.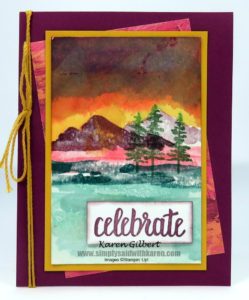 The above card appears in the video.  However, I find the sky to be quite dark.  It is a case of not using enough water when mixing the Brusho™ colors to apply to the card or mixing the wrong colors together…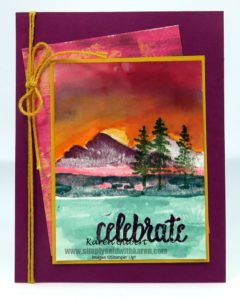 The card above is the one that I created as the sample and I am much happier with the sunset on this card.
As I said, you have to experiment, test, try and even then you may not get it right.  However it is art, and "art is in the eye of the beholder".
Recipe
Stamps: Waterfront, Amazing You.
Ink/Marker: Fresh Fig, Garden Green, Tranquil Tide, Flirty Flamingo, Crushed Curry, Pool Party.
Paper: Whisper White, Fresh Fig, Crushed Curry, Watercolor Paper, Painted with Love Specialty Designer Series Paper.
Accessories: Brusho Crystal™ Colors, Crushed Curry Baker's Twine, Aqua Painter Brush, Water, Clear Block, Paper Towel or Clean Rag.
You can see the Brusho Crystal Colors HERE.