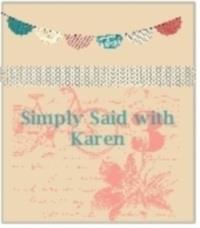 Great Stamps, Ink and Paper!  Great Times!
Spring Fling Class Is Here!
Find Out What's In The Spring Fling Class – Watch the Video Below
Create Cards Better Than Ever Before After This Class
Create Stunning! Greeting Cards and Gifts
All On Your Own Time
SPRING FLING ON LINE CLASS
You can create beautiful cards, gifts and decor on your own time.  After a busy day of work, taking care of family and trying to play "Beat the Clock", the last you may want to do is to go out to a Card Class.  Now you don't have to leave your home!
Classes are available to you instantly after your purchase. Classes will be delivered to you instantly in either a Video or PDF or a combination of both.  All supplies will be listed in a PDF so that you can print it off on your printer.  Where necessary, measurements for various elements will also be given.
Over the Shoulder Instruction I will be there to guide you step by step through the creation of your projects.  Videos will show you clearly the various steps.  PDFs will have comprehensive instruction along with lots of pictures to guide you.  All templates required will be included.

Use the Class as a Jumping Off Point for Your Own Ideas. While I will use Stampin' Up! products for the class and provide instructions on how to create the projects, you can incorporate your own products, items and add your own ideas.
Project delivered within minutes of purchasing.
Learn techniques and tips that can be used over and over in different projects.
Receive your class in a PDF and/or Video with detailed instructions.  You will always receive the supply list and all measurements for cutting papers and ribbons.

Ability to contact me by email if you have any questions.
Join me as I teach you the art of watercolour to enhances your images, how to create a floating card, a coordinating Gift Bag, and a beautiful gift box.
There are also numerous tips along the way to make your crafting enjoyable!
I provide a list of supplies that I have used in creating these projects as well as the measurements for papers, ribbons, etc.
Get Your Simply Said with Karen Class Today for $17.00
I have been getting your emails and I have liked how you give all the details for making a card etc
ShirleyCustomer
Great video on the use of the Wink of Stella pens
CathyCustomer
---