Why I Love What I Do! and Do What I Love! You Can Too
Why I Love What I Do!

Today, I want to share with you why I love what I do and do what I love!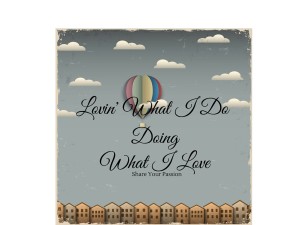 Six years ago, I signed up with Stampin' Up! to become a Demonstrator and I am so glad I did. When I first signed up, yes, it was to get my products at a discount and just dabble in making greeting cards, creating scrapbook pages and 3-D items such as gift boxes, quilted hangers for photos, etc.  However as I neared retirement from 9-5 job, I started to contemplate what my future would look like, and I envisioned a business.
One of my passions was creating with any type of medium, and when I was introduced to rubber stamping to create beautiful cards and scrapbook pages, I was definitely hooked.  In days past, I had even dreamed about what it would be like to be able to just create.  Now, I had never considered myself to be an artist.
So here I am, loving what I do.
I would like to share 3 reasons why I love what I do:
I am able to share my passion for paper crafting and teach others how they can become a paper crafter.  Sharing my knowledge about rubber stamping, techniques and tips that you can try and carry with you forever  are gifts that I can give to others.
I am able to devote as much time as I want to running my business. While I do have set office hours, I am able to decide when and where those office hours will take place.  Depending upon what I have scheduled on my "TO DO" list, the hours can fluctuate from day to day.  Who is able to do that in a 9-5 job?
This reason is probably my biggest reason. One of my biggest fears about retirement was not to have that day-to-day contact with people. Working on establishing my business has allowed me to develop and maintain relationships that may not have been possible if not for my business.
Do any of these 3 reasons of why I love what I do resonate with you?  If so, than there is a solid business opportunity for you during SALE-A-BRATION.
During Sale-a-Bration, you can become a Stampin' Up!demonstrator for $125.00.  You choose $155 worth of product and because it's Sale-a-Bration time, you can choose $40 more in product.  You can get started in your business with $195 in product for $125.00.  Plus there is no tax on the kit and it ships for free.
There is only one caveat.  To become part of my downline, you are required to live in Canada.
If you would like to become a part of the Stampin' Up! family, then email me and we can have a discussion.  In the meantime, check out the information on my Demonstrator Website. 
Check out the Flexibility for Small Business Owners Post for additional information.
You too, will be able to give reasons as to "Why I Love What I Do".