Mosaic Madness Make and Take
Mosaic Madness Set – Great Make and Take
The Mosaic Madness is a great stamp set and punch but before I go there, I want to give you a reminder about joining our email list.
Reminder:  The Simply Said with Karen July Newsletter will be released next week.  As well as having beautiful projects for you to recreate, I am also launching the Simply Said with Karen Referral Program.
So what you say, well, there is something in it for those that take part in the program.
So to find out more, make sure that are on the Simply Said with Karen email list. 
You can check out all the benefits of being on the email list by clicking HERE.  It's as easy as 1, 2, 3.
1  Enter your name and email address in the sign up form
2. Submit the form
3. Confirm your acceptance when you have received the email
Now, it's Mosaic Madness Time
Mosaic Madness when paired with the 2013-2015 In Colors makes for a great make and take card at a workshop, open house, class or club.  I did this card for a workshop that was held a couple of weeks ago. 
Because you may have all different levels of stampers and/or card makers at a workshop, the make and take needs to be not too easy or not too hard.  It was this view that I took when designing the card.  I also wanted to feature as many of the 2013-2015 In Colors as I could without overwhelming the card.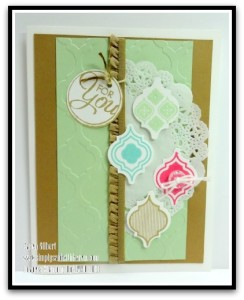 Stamps: Mosaic Madness (c – 130249, w- 130246, p123 2013/14 Annual Catalogue), Chalk Talk (c – 130634 w- 130634, p12 2013/14 Annual Catalogue)
Paper: Whisper White, Baked Brown Sugar, Pistachio Pudding
Ink: Baked Brown Sugar, Strawberry Slush, Costal Cabana, Pistachio Pudding, Baked Brown Sugar Reinker
Accessories: Big Shot, Modern Mosaic Embossing Folder, Mosaic Punch, 1-1/4" Circle Punch, Vintage Faceted Designer Button, Whisper White Bakers Twine, Baked Brown Sugar 3/8" Ruffled Stretch Trim, Tea Lace Paper Doily.
So how did I get the Baked Brown Sugar Bakers Twine?  Easy as can be.  Just put a piece of the Bakers Twiner into a few drops of Baked Brown Sugar reinker and you've got yourself a piece of Bakers Twine in the 2013-15 In Colors.
Purchase this stamp set and punch as a bundle receive a discount of  15%.
For the full details, visit the Simply Said with Karen online store HERE