Big Four O Birthday, Is It Still Special?
The Big Four O Birthday
Is the Big Four O birthday as special as it once was?  This year, my daughter and 2 nieces celebrated their 40th birthdays. I know that when I celebrated mine, along with a few other baby boomers, it was a big deal.  But I'm not so sure anymore.
Baby Boomers are currently the largest segment of the population and they carry a great deal of influence in the world.  Perhaps, it's because this part of the population is now celebrating their 60ths, 65ths and 70ths birthdays and redefining the aging process that our parents were embracing.  Do you round-up your age by saying things like"I'm nearly 70, you know".  I remember my parents saying this as they sought an excuse not to do or try something.
I found an excellent article on Huff Post Living.  Here's a link to the post Life Begins at 40.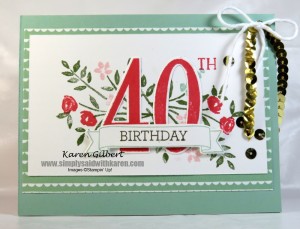 Recipe
Stamps: Number of Years.
Ink/Markers: Blushing Bride, Watermelon Wonder, Mossy Meadow.
Paper: Whisper White Thick, Whisper White, Mint Macaron, Birthday Bouquet DSP.
Accessories: Big Shot, Large Numbers Framelits, Whisper White Thick Baker's Twine, Gold Sequins.
This stamp set is so great as you can use it for birthdays, anniversaries, passing into a new grade.  As well as making cards, it's ideal for scrapbooking.
The stamp set is photopolymer which makes it easy to place and stamp the flowers on the end of the stems..
Two of the stems were lined up pointing to the left and right corners of the Whisper White panel.  The petal flower was stamped in Blushing Bride ink and the fuller flowers were stamped in Watermelon Wonder.  Stamp the large numbers in Watermelon Wonder and die cut with the Large Numbers framelits.
Stamp the banner on Whisper White using Mint Macaron ink, stamp "Birthday" using Soft Suede and die cut with the banner in the Large Numbers Framelits.
Finally, mount the numbers and banner over the flower and leaves using Dimensional.  Loops a string of Gold sequins at the right top corner and cover the ends with a bow made from the Thick Whisper White Baker's Twine, attach to the right.  To complete the card, place single Gold sequins around the card.
You now have a big Four O birthday card.
Leave me a comment and let me know your take on milestone birthdays.