Heartfelt Sympathy For A Friend, Customer, and Neighbour
Heartfelt Sympathy
Yes, I have created yet another heartfelt sympathy card for a friend, customer and neighbour.  I will be very happy when 2015 ends and all I can hope is that 2016 will not bring so many sad times.  I just seems that I have been sending sympathy cards every month for a year. I suppose it has a lot to do with my age and the ages of those around me.
This heartfelt sympathy card was cased from the 2015/16 Stampin' Up! Annual Catalogue.  As you know CASE is an acronym for Copy and Share Everything. The Heartfelt Sympathy stamp set is beautiful and because it has mostly words, you can combine it with so many other stamp sets.  However, this time I did not combine additional stamp sets.  In fact, I copied the card almost exactly as it appears in the catalogue on page 27.
Can you spot the difference?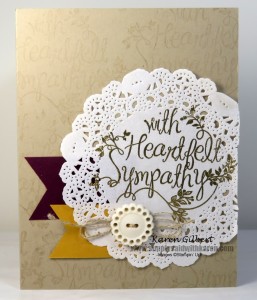 Supplies
Stamps: Heartfelt Sympathy.
Ink/Markers: VersaMark.
Paper: Crumb Cake, Blackberry Bliss, Delightful Dijon.
Accessories: Tea Lace Paper Doilies, Very Vintage Designer Buttons, Linen Thread, Gold Embossing Powder, Banner Triple Punch.
Instructions:
The card base is created using Crumb Cake card stock and I did not use another layer of card stock.  So if you are into clean and simple cards this one is a good example.
The card base was stamped with VersaMark using the large heartfelt sentiment.
The same sentiment was stamped using VersaMark on the Tea Lace Paper Doily and embossed using Gold Embossing Powder.
Layer the doily on card stock that has been punched with the Banner Triple punch, tie a bow with the Linen Thread and attach the Very Vintage Designer Button on top of the bow.
Stamp a sentiment inside the care with VersaMark and emboss with Gold Embossing Powder and heat set.
Leave a comment for me and tell me what is different between the heartfelt sympathy card I created and the one in the catalogue.