Why We Love Handmade Cards And Why They Are Special
We Love Handmade Cards! Why?

I love handmade cards. I design and create handmade cards, I give handmade cards, I sell handmade cards.  Then I get asked "Why would I put all that time and effort into creating and making a card when I could simply go to the store and buy one".
There are reasons why handmade cards are "special" to me.
First, you cannot compare the handmade business with a large corporation. I don't mass produce items, I don't sell the items in the same way nor do I receive the items in the same way. Compare the mass produced greeting card with the handmade card and there is no comparison. Every piece of the handmade card is about people and not machines. It is about the time and effort that goes into each piece of the card,  it is about the designing capabilities, the skill, the imagination and the resourcefulness of the crafter. A handmade card is a treasure.
Today, we are in an era of "throw away".  Something new comes along and we replace the old.  What do we do with it?  Throw it away. Human nature wants the latest and greatest gadgets.
That's where handmade outshines the mass produced.  You will never have to upgrade because the handmade item is a "one of a kind" which makes it unique and interesting.  Yes, you can make several cards at the same time, using the same design and the same products,  however there will always be slight differences in every card.
We need to celebrate and support the handmade business.  Why, because the items are crafted with love and care and one size does not fit all.
My card share today is a Thank You card for a midwife that has been instrumental in the delivery of happy and healthy babies.  The Moms wanted to say thanks for her support and love.  This card was commissioned as the purchaser was looking for something unique and cute.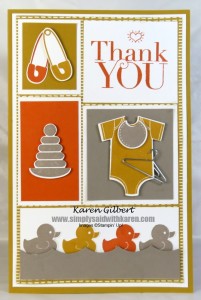 Recipe
Stamps: Something for Baby, Another Thank You.
Ink/Markers: Delightful Dijon, Tangelo Twist, Tip Top Taupe.
Paper: Whisper White, Delightful Dijon, Tangelo Twist, Tip Top Taupe, Bohemian DSP.
Accessories: Big Shot, Baby's First Framelits, Large Scallop Edgelit, Everyday Clips.
Next time you need a greeting card in a hurry, rather than rushing to the store, you can always purchase a handmade card.  Contact me at karen@simplysaidwithkaren or visit my Etsy Store, Simply With Heart.