Valentine's Day Gift Pack and Treats – Get Them Ready
Valentine's Day Gift
Do you give a Valentine's Day Gift to that special someone?  Or maybe you have more than one special someone.
What types of gifts to you give? Are they chocolates, those cinnamon hearts that leave your mouth tingly, or flowers?  Whatever your Valentine's Day gift, I am sure that they are appreciated.
I view a Valentine's Day gift as a "thank you" for being in my life.  A few of my special someones to receive a gift include my grandchildren.
The January Paper Pumpkin made it so easy to do up Valentine gifts.  And, the best part? I only had to fill the bags, stamp the sentiment and put them together.  I didn't have to supply anything except for my Paper Snips and what I was going to put in the bags.  And, there were 24 packaged gifts when I finished. And, no, I don't have 24 grandchildren.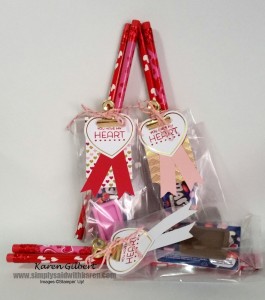 During Sale-a-Bration, Stampin' Up! is offering a 3 month's subscription for $68.85.  That's a savings of $6.00 over the 3 months.  Plus, you have spent enough to earn yourself a free Sale-a-Bration item.  That's a 2 savings deal!
Once you have purchased your subscription, have don't have to do anything else.  Just wait for that little red box to show up on your doorstep every month.
And the best part of Paper Pumpkin is that the kit gets better and cuter every month.
Sign up for Paper Pumpkin now.  Please remember to choose me as your Stampin' Up! demonstrator.
You can also give a Paper Pumpkin subscription as a gift – hmmmm, that would make a great Valentine's Day gift.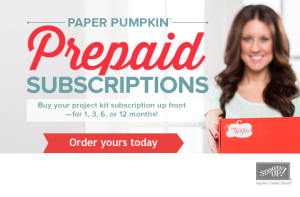 Yes, I want to Sign Up For Paper Pumpkin
Got questions? Email me and I will provide an answer.