Best Stamping Invention – Well, In My Opinion
Best Stamping Invention
What is your best stamping invention?  We all have a tool, stamp, paper, etc. that we just can't live without.
For me, the best stamping invention was the "Big Shot" or as one customer likes to call it "Big Boy".
I used the Big Shot in one way or another in almost everything I create.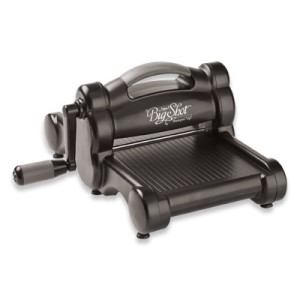 The Big Shot isn't one of those fancy electronic cutters and you have to do a bit of manual labour to operate it.  It's not hard, all you have to do is crank the handle.
The Big Shot can cut and emboss a variety of mediums, for example:
Thick cardboard
Metal
Paper
Fabric
Vinyl
Thin paper wood
Balsa wood
Tin, etc.
For a complete list, click on the link below to view PDF.
The Big Shot uses steel rule dies and chemical etched dies.
The steel rule dies are similar to a cookie cutter with razor-like blades inserted in the foam.  This razor-like blades rise to the top and cuts the medium.  Depending upon the intricacy of the die and the thickness of the material, you can cut up to 8 layers. Of course, you need to experiment as you don't want to break your machine.
Example of the Steel Rule Die:
And you are in luck as this week, this die and the die below are part of the "Weekly Deals".
Chemically etched dies
Chemically etched dies can cut intricate designs. These dies are metals with elaborate designs which are etched into the metal.  Chemicals are used to burn away the unwanted metal. While these dies can create more intricate designs, they cannot cut as many types of materials nor can they cut multiple layers of material. Chemically-etched dies should only be used to cut one sheet of card stock or paper at a time.
Example of Chemically Etched Die:
The Big Shot comes with the standard plates and for these metal dies, you can also purchase the Magnetic Board so that the dies do not move off the paper.  So much better than holding them on the plate with tape.
The ability to emboss paper with the embossing folders also adds dimension and interest to your paper creations.  This is an easy way to get started with the Big Shot.  Create a sandwich of the platform, bottom plate, embossing folder with paper lined up inside, top plate and run through the BIg Shot…DONE!
For me, the Big Shot is capable of adding interest to your paper crafting, whether it's scrapbooking, card making, quilting,  etc.  You can even use it with the sugar sheets for cake decorating.
So, these are some of the reasons why I think that the Big Shot is the best stamping invention.