What to Write In Your Christmas Cards
What to Write In Your Christmas Cards
Oh, no, it's days before Christmas and you are struggling with what to write in your Christmas cards.  Sometimes just don't know what to say and questions like "is this too personal or not personal enough.
To answer this quandary, it's the relationship that you have with the people you are giving Christmas cards.  Ask yourself this question – Is this card for family, friends or a business customers?
I have three suggestions for you that will help with the 3 different types of relationships.  First, though I have a photo of the inside of a card, that has a stamped verse.  You can either have a verse or no verse and let you thoughts and feelings come through on the card.  I chose to add a cut image as well.  Decorating the inside of the card lets your personality show through.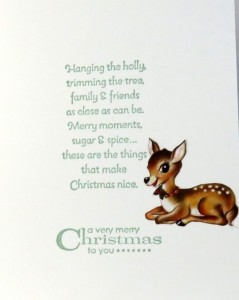 Here are my 3 suggestions to answer the question "What to write in your Christmas cards". I will also break these down into the 3 relationship categories that I mentioned above:
For family, consider:

Christmas is a special time of year to remember those who are close to our hearts!  I would also add a personal memory regarding something that happened between you and the family member(s) during the year.

For friends, that you see and visit with regularly consider: Wishing you all the timeless treasures of Christmas… The warmth of home, the love of family and the company of good friends.

For business customers consider: Merry Christmas or Happy Holidays and wishing you all the best in 2016, (person's name). I appreciate your support for my business over the year and look forward to continuing to serve you. If your customer does not celebrate Christmas or is of another religion, use the "Happy Holidays".  The most important part to remember is that the personal touch is important – Hand write your message