Project Life Makes Scrapbooking Easy Peasy
Project Life Provides Ease to Scrapbooking
Do you love to scrapbook?  Do you have pictures sitting in boxes, old albums, and your computer?  Would you like to organize and scrapbook your pictures easily?
Well, I have the answer to your questions.
Project Life – Create Your Story!!
Stampin' Up! has partnered with Becky Higgins to bring her unique scrapbooking method to us.  Yes, Project Life is now available from me and Stampin' Up!.  There are pocket page protectors, card pages, journaling tags, stamp sets, framelits, journaling pens, a corner rounder punch, stickers, embellishments, with more to come in the 2014/15 Stampin' Up! Annual catalogue.
I have never used the Project Life method to scrapbook and I was amazed at how easy peasy it really is.
Here is a sample of my first try.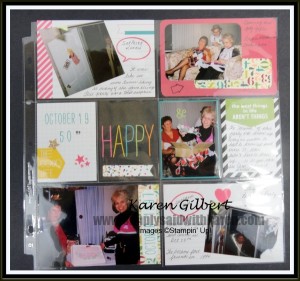 Because I hadn't used the Project Life products before, it took me a little longer that it should have.  I did this page in about 40 minutes and as I get better at it, like I can cut that time in half.  Of course the fancier you get, the longer it takes, so you have to decide whether it's fancy or fast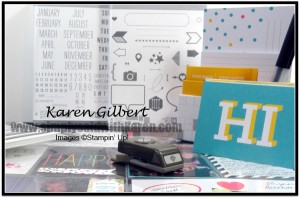 Project Life Products Are Now Available
Visit my ONLINE store to view the products up close and personal.
Watch the video for more information
Contact me for more information karen@simplysaidwithkaren.com
Happy Stamping or maybe I need to say Happy Scrapping