Handmade Birthday Cards Celebrate Another Great Year
Handmade Birthday Cards Celebrate You
Celebrating a milestone birthday with handmade birthday cards will make the birthday person feel so special.  Why?  As you create those handmade birthday cards, you are concentrating only on the birthday person.
I seem to be making a lot of birthday cards lately and there is even more next month.  I guess it's because every person we know celebrates a birthday, whether it's quietly or with a full blown party.  Birthday cards are a way for others to celebrate with them.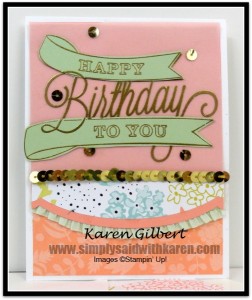 Recipe
Stamps: Another Great Year (c-133041, w- 133038, p34 2014 Occasions Catalogue.
Paper: Whisper White, Crisp Cantaloupe, Pistachio Pudding, Vellum, Sweet Sorbet DSP (2014 SAB).
Ink: Versamark.
Accessories: Big Shot, Adorning Accents Edgelits, Gold Embossing Powder, Pistachio Pudding Stretch Ribbon, Gold Sequin Trim.
For some reason I had real difficulty in designing this card.  First I tried the Silver Embossing Powder, put a panel of Pistachio Pudding cardstock behind the vellum which really didn't go at all.  Then I decided that I would use the Crisp Cantaloupe but the card still needed something.  So that something was the Sweet Sorbet DSP and the Adorning Edgelits to give more design elements to the card.
By adding the Pistachio Pudding stretch ribbon to accent the curve in the Adorning Accents Edgelits, I was finally happy.  The finish out the card, the Gold Sequin trim was added to hide the seam between the vellum and the DSP.  The final step was to add individual Gold sequins to the vellum.  Now, I'm happy.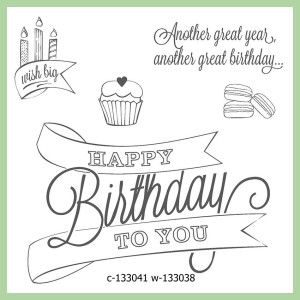 Order this stamp set by visiting this LINK.  
Remember the 2014 Occasions Catalogue is only around until June 1, 2014 and time is running out.
Not only do I really like the large stamp, I also like and have used the other stamps in this set.  The stamp set is clean and simple and there are so many ideas for ways to use this set.
To revisit this card, PIN it on Pinterest.
Happy Stamping