Party Hats – Do You Wear Them
Party Hats
Do you wear party hats for various occasions?  Perhaps you have worn New Years' Eve hats, or birthday hats, or baby/wedding shower hats.  People can often take hats or leave hats depending on their moods. So if you know a person would not wear a hat, how about making them a birthday card with a hat on the front.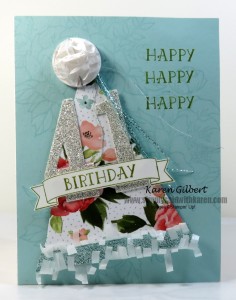 Recipe
Stamps: Number of Years, Birthday Blooms.
Ink/Markers: Old Olive, Pool Party.
Paper: Whisper White Thick, Pool Party, Birthday Bouquet DSP, Dazzling Diamonds  Glimmer, Glassine Sheets.
Accessories: Big Shot, Large Numbers Framelits, Pool Party 3/8" Glitter Ribbon, Honeycomb Embellishment, Fringe Scissors.
I did this card for my daughter's birthday this month.  Actually, I needed some help as I have been in a creative drought for a while now.  However, it was the 2016 Occasions catalogue that came to my rescue.  Yes, I cased the card on page 8.  CASE is an abbreviation for Copy and Share Everything.   There is no sin in copying, however, it is courtesy to give the person credit for their original artwork.
Did you notice the fringe at the bottom of the hat?  It is done with Glassine Sheets and the Fringe Scissors.  Glassine sheets have a delicate look of tissue paper, however they are quite sturdy.  I cut a couple of strips and then using the Fringe Scissors, cut the fringes and curled them slightly with my bone folder.
Here's a tip when you are using the Fringe Scissors  Do not use just the tips of the scissors when cutting.  Slide them up the paper until you reach the middle of the strip and then cut.  BE CAREFUL so that you don't cut all the way to the end of the paper or you will have to start again.
I shredded the Pool Party Glitter ribbon to give the hat some sparkle. It is very easy. Just cut a length of ribbon and start pulling individual strands of the glitter.  After I had a sufficient number of strands, I tied them with a piece of the Silver Metallic Thread.
How would you a person a party had that they didn't have to wear.  Leave me a comment.  I would love to see your ideas.
Product List