Milestone Birthday Celebration
It's a Milestone Birthday Celebration – Yes 90 Years.
There was a milestone birthday celebration on Friday.  Yes, my Dad turned 90 years young and he is doing very well for his age.  His health is good except for the same complaints that we all have as we age.  He keeps saying that he is going to live to 100 and given his stubbornness, he is likely to make it.  Him and my Mom (who will also be 90 this year) are talking about going on another cruise.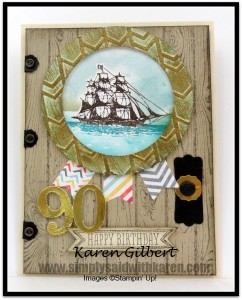 Recipe
Stamps: The Open Seas (c-123032, w- 128454, p101 2013/14 Annual Catalogue), Sketched Birthday (c-130426, w- 130423, p13 2013/14 Annual Catalogue), Hardwood (c-133035, w- 133032, p37 2014 Occasions Catalogue), Gorgeous Grunge (c-130517, w- 130514, p109 2013/14 Annual Catalogue).
Paper: Basic Black, Whisper White, Naturals Ivory, Crumb Cake, Very Vanilla, I Am Me DSP, Gold Foil.
Ink: Bermuda Bay, Smokey Slate, Sahara Sand, Pistachio Pudding, Early Espresso, Soft Sky, Versamark.
Accessories: Big Shot, Arrows Embossing Folder, Circles Collection Framelits, Bitty Banners Framelits, Letters and Numbers Sizzlits (retired) Little Labels Punch Pack, Modern Label Punch, Banner Punch, Signo Gel Pen, Sponges, Sponge Dabbers, Vintage Trinkets, Black Glimmer Brad, Markers: Early Espresso, Bermuda Bay, Gold Embossing Powder.
The techniques used on this card are Faux Patina and Masking.
The Faux Patina, used on the frame around the porthole, was created using the Arrows embossing folder which was sponged with Smokey Slate ink.
After embossing, Pistachio Pudding and Bermuda Bay inks were sponged on the porthole.  Finally, the line stamp from the Gorgeous Grunge stamp set was inked with versamark, stamped over the sponging and embossing with Gold Embossing powder.
This technique is very effective.
The ship was masked and Soft Sky, Sahara Sand and Bermuda Pay sponged to create the ship on the open sea. Finally the white gel pen was used to create white caps on the water.
We went for a family dinner on his actual birthday and next weekend we will celebrate with the whole family.  There could be 17 for dinner so it may be a little crowded in my not so big place.  Oh well, we will survive.  It's getting warmer now so perhaps we will be able to use the patio for any overflow.
Here are some things that happened in 1924 –
April 1 – The Royal Canadian Air Force is formed.
Prime minister  of Canada– William Lyon Mackenzie King
Walt Disney creates his first cartoon, "Alice's Wonderland."
Paul Whiteman introduces George Gershwin's Rhapsody in Blue.
New York's Computer Tabulating Recording Company name is changed to International Business Machines Corp. (IBM).
So, Happy Birthday Dad and I wish you happiness and joy and a very long life.
Happy Stamping