Handcrafted Sympathy Card with Garden In Bloom Stamp Set
Handcrafted Sympathy Card
A handcrafted sympathy card is a gift from the heart. There are so many emotions that the one-left-behind goes through over time.  One way to help the grieving is to let them know that you are thinking about them and the one who is gone from their life is with a sympathy card. Beside, creating the handcrafted card allows you to dwell on the person who is gone and remember the times that you spent together.
This handcrafted card is for the family of a dear work colleague. She hired, mentored, and coached me to become a leader. She believed in my abilities to become an asset to the organization. Consequently, I was able to rise through the ranks and gain a trusted position that provided me with so many opportunities.  Forever, I will be grateful to her for her wise words.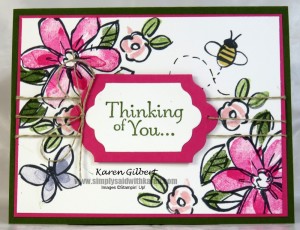 Handcrafted Sympathy Card Recipe
Stamps: Garden in Bloom, Thoughts and Prayers.
Ink/Markers: Melon Mambo, Wisteria Wonder, Blushing Bride, Memento Black, Mossy Meadow, Pear Pizzazz, So Saffron, Basic Black Marker.
Paper: Whisper White, Mossy Meadow, Melon Mambo.
Accessories: Big Shot, Lots of Labels Thinlits, Linen Thread, Paper Piercing Tool.
There are a few tricks, though, as this stamp set allows 2 or 3-step stamping.
For this handcrafted sympathy card, the first major hurdle is determine which stamps to use to stamp the various flowers, leaves, butterfly and bee.
I have added a picture of the various stamps and grouped the stamps so you can see which stamps you will need to use to build the flowers, leaves, butterfly and bee. Compliments of Split Coast Stampers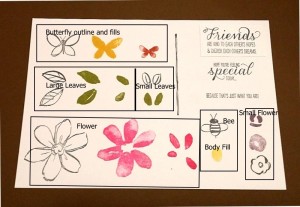 When you first look at the stamp set, you will wonder which stamps go with each other to form the different layers of the elements.  I have drawn boxes around the different stamps so that you can see how to group them.
When you stamp, you can use different colors and/or different intensities. The outline stamps are stamped using Tuxedo Black Momento ink. For this card, I used the same colors, for the flowers and the butterfly.  I did stamp the ink off once for the butterfly body,  and the second layer is used full strength.  The large leaves are filled with with Mossy Meadow and the smaller leaves with Pear Pizzazz. The bee's body was stamped in So Saffron at full strength.  The bee's flight path is outlined with the Basic Black Marker.
What do you think of when you handcraft a sympathy card?  It is great therapy for the one sending the card to the family member and you.  Leave me a comment and upload your sympathy card.  I would love to see it.