Blue Valentines Day Card For Blue Monday
Blue Valentines Day Card
Who says you can't have a blue Valentines Day card? Not only that but this card doesn't even have a heart anywhere near it.  Sometimes, it's good to go outside the box.
This blue Valentines Day card is great for a Blue Monday.  Apparently, the third Monday in January is considered the most depressing day of the whole year.  Why is that?
There are several contributing factors to Blue Monday such as:
Coming down from the celebrations of Christmas and New Years
In the Northern Hemisphere, it is winter with it short days light and often it's difficult to get outside because of inclement weather.
The Christmas bills are starting to come in.
New Year's resolutions are starting to go by the wayside.
So what do you do to counteract Blue Monday? Here are some ideas:
Get outside and go for a walk around the block.
Get together with friends and family for a lunch date.
Go shopping as the stores are starting to display their spring fashions which are usually colourful and just by looking at them, you will feel your mood improve.
If you can, book a holiday to somewhere warm and sunny.
Now if we talk about the bluest day of the year, we have to talk about the happiest day of the year.  Usually, most people will feel the happiest around Christmas Day.  It is a day filled with excitement, joy as we spend time with family and friends, and enjoying great food.
So, let get on with the Blue Valentines Day Card.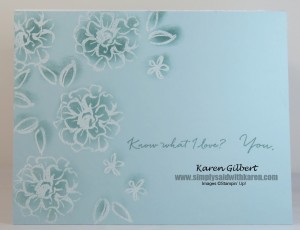 Recipe
Stamps: What I Love.
Ink/Markers: Lost Lagoon, Versamark.
Paper: Whisper White Thick, Soft Sky.
Accessories: White Emboss Powder, Sponge Dauber, Wink of Stella Glitter Brush.
This card is very simple and easy to recreate.  Actually, I cased the Sale-a-Bration catalogue for this one.
You can earn this stamp set by purchasing $60 of products from any of the catalogues or clearance rack. Sweet deal! That should counteract Blue Monday.
The flower from this stamp set can be stamped 3 times to give shading to the flower, However, I only stamped the outline flower, the leaves and tiny flowers in Versamark, heat embossed with White Stampin' Emboss Powder and sponged them using a sponge dauber and Lost Lagoon ink.  I also added a bit of Wink of Stella Glitter to the flowers.This is a great card if you are going to send it in the mail.  No extra postage!!!!.
I hope that you do something to help with Blue Monday.  Perhaps, create a blue Valentines Day card.  Leave a comment and let me know what you did for Blue Monday.