Simple Joys of the Christmas Season Perhaps We Can
Simple Joys
To enjoy the simple joys of the holiday is to stay sane.  With all the shopping, baking, sending cards, inviting people to events, going to events yourself can be nerve racking.  So how do you prevent yourself from becoming a zombie and enjoying the holidays.
Even now, I can hear your big sigh as you begin to think of the things you need to do. Don't you think that Christmas in the stores is earlier every year?  I have to admit that I did pick up a decoration in Costco this week.  What was I thinking?  Good marketing Costco.
Here is a 3 tips for you so that you can enjoy October, November and December.
Make lists for everything you want to accomplish.  No, you don't have to make every single list at one sitting, but do try to get them finished by the end of October.  There are the Christmas gift lists for family and friends.  I don't rely on myself to determine what to get for everyone.  I have help from parents, children and grandchildren.  Just ask!
Source out the dates of the events and get them on your calendar.  Are you planning on hosting an event?  Get your invitations out early because everyone's calendars fill up.  Realize too,  that the date you choose will not be good for everyone.  But if you plan early enough and contact the people you have a better chance of getting the date you want.
Take time for yourself.  So often we forget to do this and it is so important.  Do something you enjoy, like a manicure, pedicure, maybe a massage.  If these aren't for you, get together with a few girlfriends or boyfriends and go out for an evening.  Or, there is your craft room where you can create, get ink of your fingers and make a mess.
Which brings me to this card. This card is a reminder about the simple joys of the season.  I did CASE the catalogue for this card.  At first I was unimpressed with Emerald Envy. This colour has definitely grown on me and I think it looks beautiful with the Cherry Cobbler.
Of course, the Copper Foil paper is beautiful along with the Copper Stampin' Emboss Powder. To top everything off, the Copper Mini Pine Cones is the added touch.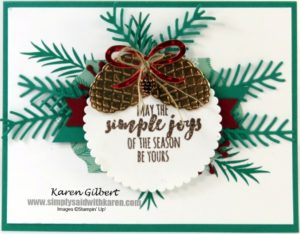 Recipe
Stamps: Christmas Pines.
Ink/Markers: Tuxedo Black, Versa Mark.
Paper: Whisper White (Thick, Regular), Emerald Envy, Cherry Cobbler, Presents and Pine Cones DSP, Copper Foil, Red Foil.
Accessories: Big Shot, Pretty Pines Thinlits Dies, Lots of Labels, Layering Circle Framelits, Copper Emboss Powder, Linen Thread, Mini Pinecones.
Do you have tips to enjoy the Simple Joys at Christmas?  I would love to read them.  Tell me about them in the comment section.
Product List