Send a Wish
Do you send a wish through the mail?  So many wishes today are sent by email, by facebook or my some other means of electronic messaging.
Sometimes I think that we have lost the art of communicating with people .  If you look around when you are out, how many people do you see texting on their phones.  Often, people are sitting side by side texting and not even talking to each other. To me phones have their place.
Wouldn't it be nice to send a personal greeting card.  Even better, make your greeting card and send it.  The person receiving the card would be delighted to receive a card in their mail box.
Yes, mailing a card is a slow way to get your wishes, but does everything need to be fast?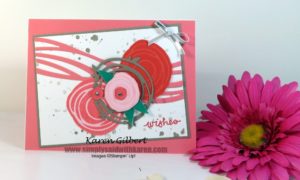 Recipe
Stamps: Swirly Bird, Endless Birthday Wishes.
Ink/Markers: Tip Top Taupe, Flirty Flamingo, Watermelon Wonder, Pink Pirouette, Emerald Envy.
Paper: Whisper White Thick, Whisper White, Flirty Flamingo, Pink Pirouette, Tip Top Taupe.
Accessories: Big Shot, Swirly Scribbles Thinlits, Jewel Rhinestones, 1/8" Silver Ribbon.
This wishes card is simple to create using the Swirly Bird stamp set and the matching Swirly Scribbles Thinlits.
This card is very straight forward.  Here are highlights to create this card:
One large circle with the swirls was stamped in Watermelon Wonder ink on Pink Pirouette cardstock and the other circle stamped in Flirty Flamingo on Pink Pirouette cardstock.
The middle sized circle was stamped in Pink Pirouette ink on Pink Pirouette cardstock.
The smaller circles were stamped with Flirty Flamingo ink on Pink Pirouette card stock.
The leaves stamped in Emerald Envy were popped behind the middle flower, rhinestone jewels added to the small flowers.
The Tip Top Taupe swirly die cut breaks up the pink and adds an interesting element to the card.
So, the next time you need to send a wish, create a greeting card and mail it or give it to the person personally. They will appreciate the attention.
Product List