Join the Simply Said With Karen Email List
Join My Email List?
Join the Simply Said With Karen Email List and have current information delivered straight to you Email In Box. However, you may ask, "Why would I do that?".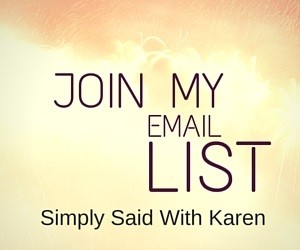 Well, I am so glad you asked!  I will give you my top 3 reasons to join my email list.
Reason #1
Inspiration when you need it.  Sometimes we get into a funk with paper crafting and we search for new ideas on the internet, Pinterest or anywhere else we may think we can find ideas.  Each month the Simply Said with Karen newsletter comes straight into your email inbox.  You can grab a coffee or a tea, sit back and relax in your favorite chair and see what inspires you.  Each project in the newsletter comes with a full list of supplies and step-by-step instructions needed to create the project. And of course, if you get stuck, I am as near as your email.
Reason #2
Do you like gifts?  Upon signing up for my email list, you will be taken to a page where you can down load a a free gift.  It is a project created in video that guides you step-by-step to make a luminary.  Even if you don't have the products that I use in the video, the project can be made with any products that you choose.  Plus, you will get other free gifts during the year to show my appreciation for you.  One of these free gifts is the 12 Weeks of Christmas series which delivers to your inbox, beautiful Christmas cards, gifts and wraps and tags that you can create.  As well, there may be other gifts that you receive throughout the year.
Reason #3
You will be notified of any Stampin' Up! promotions, Simply Said with Karen classes and events, questions and answers and various techniques. The questions and answers come from real people just like you and I publish these because I believe that if one person has a question that they need answered then there are others that need the answer as well.
What Do I Have To Do?
You can sign up by using the form on the top right hand side of the page.  All you are required to do is enter your name and your email address. Once you have hit "SUBMIT". you will receive a message asking if you really did sign up for the email list.  This is my way of protecting your privacy and preventing SPAM emails.  Once you have validated that you did actual join the Simply Said with Karen email list, you will be taken to a page where you can down load your FREE GIFT.
As I value the people on my list and I don't want them to wait a month to get their first newsletter.  The next day you will get an email with the link to the latest Simply Said with Karen Newsletter.
If you wish additional information regarding the Simply Said with Karen email list, use this LINK