Gift Boxes – Great Pillow Gifts For Roomies
Gift Boxes – Pillow Gifts
Gift Boxes are attractive especially when they contain a surprise.
On a note, I am glad to have my computer back.  It's been in sick bay for  a few days and it's really heard to do blog posts on my tablet…or maybe it's just me that can't do blog posts on their tablets.
So now back to the project I did for my roomies.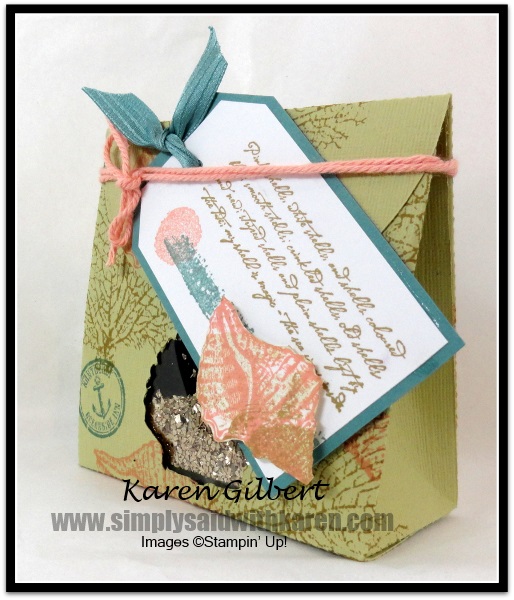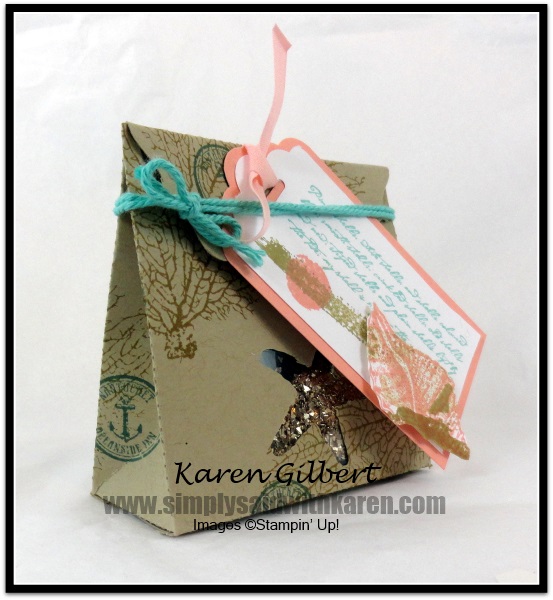 I just love doing these hybrid projects – using MDS, Stamps, Ink, Punches, and the Silhouette e-cutter.  And, these little gift boxes are no exception.
For the gift inside the box, I added a set of Catalogue Labels that were done using MDS and the Silhouette.
 Recipe
The box was cut using the Silhouette e- cutter using images from MDS (My Digital Studio).  I have a video that show how to transfer MDS SVG files to the Silhouette.
This video shows how to create labels for your catalogue.  http://youtu.be/4LNG5_h-Bhk
Stamps: By the Tide (c-129120, w-131910, p 131, 2014/15 Annual Catalogue), Work of Art (c-134114, w-134111, p 165, 2014/15 Annual Catalogue)
Ink: Baked Brown Sugar, Lost Lagoon, Crisp Cantaloupe, Coastal Cabana
Paper: Crumb Cake, Whisper White, Crisp Cantaloupe, Lost Lagoon, Window Sheets
Accessories: MDS – Cool Like That Giftable Templates (136573), Anchors Aweigh (134683), Scallop Tag Topper, Angled Tag Topper, Coastal Cabana and Crisp Cantaloupe Thick Baker's Twine, Lost Lagoon 3/8" Stitched Ribbon, Blushing Bride 1/4" Cotton Ribbon, Champagne Glass Glitter.
To create the shaker boxes:
Cut 2 pieces of Window Sheets – to cover the cut- out portions – measure the cut outs
Attach 3 sides of the Window Sheets to create a pocket. – Use Sticky Strip
Fill the pocket with your choice of material – I used Glitter Glass
Seal the 4th side with Sticky Strip.
Attach to inside of box.
So, not it's your turn.  Need MDS? Try the 30 day version and you will receive 10 free lessons to guide you through the joy of creating with MDS.
Download the  Free MDS software –  My Digital Studio Free Trial
Try out these Gift Boxes.
Happy Stamping