Cupcake Frosting Adds To The Sweetness
Cupcake Frosting
Adding cupcake frosting to your cupcakes makes them delicious. However, adding real frosting will not work. Paper cupcakes and real frosting do not mix.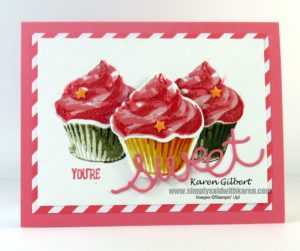 Recipe
Stamps: Sweet Cupcake.
Ink/Markers: Flirty Flamingo, Soft Suede, Crumb Cake, Daffodil Delight, Peekaboo Peach, Watermelon Wonder, Blushing Bride.
Paper: Whisper White, Flirty Flamingo, 2016-2018 In Colour DSP Stack (diagonal stripes).
Accessories: Big Shot, Cupcake Cutouts Framelits, 2016-2018 In Colour Enamel Shapes, Wink of Stella – Clear Glitter Pen, Light Gel Modeling Paste.
Create the cupcakes and the paper bottoms using various ink colours.  You can use the same ink colour and stamp it off prior to stamping the stamp layers. The cupcake bottoms are stamped with Crumb Cake and Soft Suede inks.  To build the layers, start with the dark ink.  To achieve the lighter layer, the stamp is loaded with Soft Suede ink and stamped off on a scrap paper. The final layer is Crumb Cake ink.
Frosting Details
Create the cupcake with Blushing Bride ink, Peekaboo Peach ink and Watermelon ink. For the cupcake, start with the lightest colour and move to the darker colours.
Now for the frosting.  I experimented with various mediums, like cornstarch, flour and modeling gel paste.  The one I found to be the best was the light modeling gel paste.  Create the frosting by adding a few drops of ink to the gel paste.  You need to reach the right consistency, not too thin and not too thick.  Hmmm, I sound like Goldilocks.
Once, you reach the right consistency, spread a small amount on an acrylic block.  Don't make too thick of a layer as your stamp will become clogged and there will be no definition. Use the stamp that you used to stamp the top layer. Once you have the frosting on the cupcakes, set them aside to dry.  When the frosting is dry, paint it with the Wink of Stella Clear Glitter Pen.
The Light Modeling Gel Paste can be purchased at any hobby and/or art store.
Leave me a comment and tell me if you make cupcake frosting for you paper cupcakes.
Product List