Be Your Own Boss -Start A Business and Satisfy Your Inner Desires
Be Your Own Boss

To be your own boss could be one of the most important thing you do for yourself. If you have that dream, then make it a reality.  Yes, to be your own boss may seem over whelming in the beginning, however as you grow in your business, you will find the satisfactions in your daily life start to form.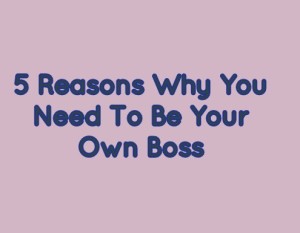 In this post I will share 5 reasons to be your own boss,
So let's get started.
You will be in charge of your own income.  While that may be scary at first, you need to remember that the sky is the limit.  Yes, you may not have as much income as you did working a 9-5 job, but you are in control. No one can put a ceiling on your income potential.
You are in control of every aspect of your business.  You make the decisions about your business and there is no one to tell you what to do.  Of course there could be downsides of this as you must be disciplined so that you can achieve your goals.
You are the one responsible for your own success.  There is no passing the buck here.  You will need to show up every day to "take care of business".
You can set your own hours.  For some, this is  a huge goal for someone that wants to be their own boss.  You may only want to work your business 2 or 3 days a week, or perhaps you need some time off, you can take it.  Maybe you are still working your 9 – 5 job and you can only devote so many hours a week to your business.  Whatever your life looks like, you are in control of your business.
You will be challenged.  When you work a regular job, often you will find the work not to be challenging and pushing your limits.  In order to grow as a person, you need to be challenged.  Owning a business will challenge you on may fronts during start up and as you grow your business.  However,that is where the satisfaction comes from.
Remember "you can do it."
As a Stampin' Up! demonstrator, I live the 5 reasons for owning my business.  If you have the desire to be your own boss and own a business, then I can help you out.
Read about becoming a Stampin' Up! demonstrator and joining my team by going HERE.  I am here to help you become successful. If you have questions about becoming a demonstrator email me and I will answer your questions.
All I can say is that I am so glad that I got to be my own boss.