Awesome Hand Crafted Christmas Projects – Get On The Mailing List
Awesome Hand Crafted Christmas Projects
Do you want to create awesome hand crafted Christmas projects this year?  Yes, Christmas is just a short 3 months away and I know that you know that this time goes very quickly.  But, I'm here to help you out.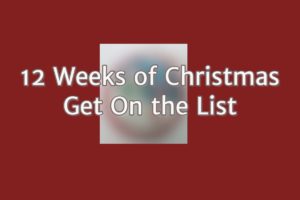 The 12 Weeks of Christmas begins October 5th at 1:00 pm (Pacific Time).  But, to receive these beautiful, sparkly and awesome projects, you need to be on the Simply Said with Karen email list.
It's very easy to get on the email list.  All you have to do is follow the arrow at the bottom of this post and enter your name and email address into the boxes.
How Does The 12 Weeks of Christmas work?
Each week for 12 weeks, you will receive an email from me.  In this email you will find an incredible Christmas project to create. You will have a detailed list of supplies required to make the project, plus you will get step-by-step instructions.
The first 5 weeks will have a Christmas card to create, the next 3 weeks there will be cute gifts, and then the last 3 weeks will be devoted to wraps and tags to create remarkable parcels for under the tree.
In addition to signing up to receive the 12 Weeks of Christmas projects, you will receive the following benefits.
    Exclusive content
    Suggested projects with supplies required and the instructions
    Stuck for Scrapbook layouts? – you will find layouts as well
    Techniques that will make your projects WOW
    Notification of limited opportunities
   …and more
So what are you waiting for?  You have everything to gain and nothing to lose!
Follow the red arrow and you will receive 12, count them, 12 awesome hand crafted Christmas projects.