2014 Trends In Paper Crafting
Over the next several posts, I will blog about the various 2014 trends in paper crafting.  I want to show you how Stampin' Up! is definitely on trend.

The Craft and Hobby Association held their exposition over this past week.  Vendors that are associated with anything card making or scrapbooking offered displays and booths to show off their newest products. 
First up are 2 trends that continue from 2013.

Project Life
Project Life has been around for a period of several years and has become a popular way to scrapbook.  It's fast and you can complete pages in short periods of time.  One of the elements used in project life are prepackaged journaling cards that you can display in divided page protectors. 
Stampin' Up! has brought the "This and That" books and coordinating papers, journaling tags, stickers and washi tape.  The Occasions catalogue has all the products that you need to create your project life and the products are all color coordinated so that you are not having to search various stores for products.  If you are a digital scrapper, My Digital Studio can be used to create your Project Life, complete with easy to do divided pages and pocket card templates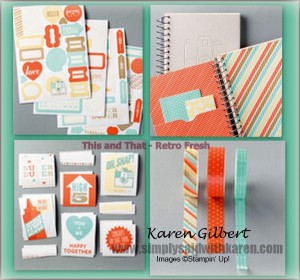 Ampersands
Ampersands (&) continue to be trendy into the Spring of 2014.  You will find Ampersands on just about anythings from papers, to stamps, to clips, embossing folders. 
The Ampersand became popular during 2013 and is using to represent "and".  Research is not definitive on why it has become so popular except that it is fun to write (an entirely non-scientific observation).
So here are 2  2014 trends in paper crafting that are sure to get your creative juices flowing and think about how you can incorporate these trends into your paper crafting.
Happy Stamping