Your Get Out of Jail Free Card
I am sure that you have heard the phrase "Get Out of Jail Free Card" .  The Monopoly Board Game is celebrating an anniversary tomorrow.  The game was available for purchase in 1935 and through the years it has seen various variations and it has spanned many generations.
My "Get Our of Jail Free" card is heading to my craft room and getting lost in the stamps and inks and yes, ending up with some of that ink on my fingers.
Today, I tried out a new technique using the Fancy Fan Embossing folder.  Instead of using it the way that it was intended, I used it as a background stamp.  Just another way to use those tools your have.
Here is the card I created using my "Get Out of Jail Free Card"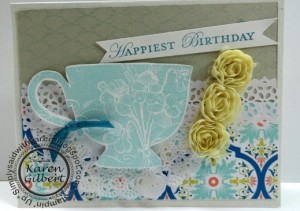 It may be difficult to see, the background stamp technique but it's there on the top of the card.  The video is available at the bottom of this post
I also dyed the vanilla Flower Trim using a combination of rubbing alcohol and So Saffron ink (reinker), mixed it up in a spritzer and sprayed on the roses.  They dry really fast because of the rubbing alcohol.  
Stamps: Tea Shoppe (c – 125547, w- 125545, p57 2012/2013 Annual Catalogue), Apothecary Art ( c – 125527, w- 125525, p102 2012/2013 Annual Catalogue)
Paper: Whisper White, Naturals White, Sahara Sand, Sycamore Street DSP
Ink: Island Indigo, Pool Party, So Saffron
Accessories: Big Shot, Fancy Fan Embossing Folder, Versa Mark, Pool Party Embossing Powder, Sycamore Street Ribbon, Delicate Details Lace Tape, Tea Lace Paper Doilies, Vanilla Flower Trim
Here's the video, give is a watch and try the technique

I hope that you enjoyed this technique.  Why don't you use your "Get our of Jail Free Card"
Happy Stamping