Three Great Mother Day Card Messages
Three Great Mother Day Card Messages
Today I have three great Mother Day card messages that you can choose from to put in your cards. Sometimes we have difficulty putting our feelings into words and this post will help you out.
I am very grateful that my Mother is still with us to celebrate another Mother's Day.  After last year and her health issues we just did know if we would get another chance to honor her. There are so many that will not get the opportunity to say "Happy Mother's Day".
Here are three great Mother Day card messages that you can share with your Mother on her special day.
"To the best mother in the world – Happy Mother's Day.  You deserve all the love, care and support that you have given me everyday of my life.  I love you!"
"You're my one and only mom, and I'll always have a special place in my heart for you."
"Wishing you a very special Mother's Day. Thank you for always being there for me!
Here is the card that I will giving to my DIL for her special day.  She is a great mother to my grandson.
Note: Items marked with '*' are expiring on May 31, 2016.
This card was created using the Bleach Technique.  Yes, bleach can add another element to your card although you need to be careful so you don't have a disaster.
Here are the steps I used:
Put a small amount of fresh bleach in a small container. If possible the container should have a lid so that there are no spills when you are not using the bleach.  What could be worse that spilling on you or on any other projects you have sitting around your work area.  The fresh bleach will prevent colour transfer from another project.
Stamp your images with VersaMark and heat emboss with White Embossing Powder.  This will help to make the petals stand out and prevent bleach bleed.
Using a small paint brush, paint the areas that you want to take the colour from.  In this case, I wanted to tone down the Delightful Dijon colour.
Once you have finished painting with the bleach, let the images dry naturally or use a heat tool.
Now that it dry, start painting the petals with markers, shading where necessary. Remember that the card stock with be somewhat fragile, so don't color to hard with the markers.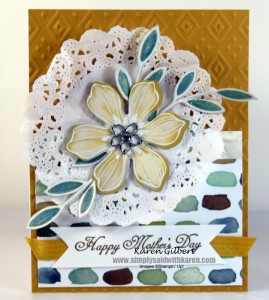 Recipe
Stamps: Beautiful Bunch *, Rose Wonder.
Ink/Markers: Soft Suede, So Saffron Marker, Wild Wasabi Marker, VersaMark.
Paper: Whisper White Thick, Delightful Dijon, English Garden DSP *, Going Places DSP *.
Accessories: Big Shot, Boho Chic Embossing Folder, Rose Garden Thinlit Dies,  Fun Flower Punch *, Hello Honey Ribbon, White Tea Lace Doily *, Botanical Gardens Jewels *, White Embossing Powder, Bleach.
To finish up the card, the stamped and colored leaves were glued to the leaves die cut using the Rose Garden Thinlits.  The flower and the leaves were attached to a crumpled White Tea Lace Doily.  The crumpling gives some texture and dimension to the card.
I hope that I have been helpful in providing you with three great Mothers Day messages to express your feelings.
Do you require any products to make this card?  Shop my ONLINE STORE.
Product List