Three Christmas Mice Deck the Halls – Create a Christmas Card
Three Christmas Mice Deck The Halls
Why not have three Christmas Mice Deck the halls?  These cute little mice can hardly wait to decorate for Christmas.  You can join in the fun and check out the Year-End Closeout Sale.  Here's a hint…the Merry Mice stamp set is on the list and many more stamp sets are on the list.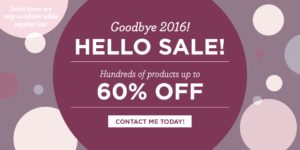 Before I give you the details on the Goodbye Sale, I want to give you details on the card.  I used a new product from the 2017 Occasions catalogue on this card.  Can you guess which one is the new product?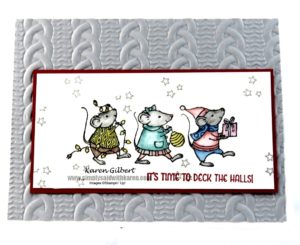 Recipe
Stamps: Merry Mice.
Ink/Markers: Black StazOn, Real Red, Smoky Slate.
Paper: Whisper White, Smoky Slate, Real Red.
Accessories: Big Shot, Cable Knit Dynamic Textured Impression Embossing Folder, Watercolor Pencils, Blender Pens.
The Watercolor Pencils will be available for order on January 4, 2017
This card is watercoloured using the new Watercolor Pencils in the 2017 Occasions Catalogue. They are great to use and you can use them with your Blender Pens which have seen very little use lately.
The one thing to remember is use StazOn ink when stamping the images because this ink will not smear when you use water with it.  Yes, you will need to clean your stamps right away and if your stamps are photopolymer, you cannot use the StazOn Cleaner.  Another reason to clean the stamps right away.And yes, the ink will stain the stamps, however, it will not affect the stamped images.
Ok, here is the deal with the 2016 Close Out Sale
• Sale runs December 2s, 2016t to January 3, 2017.
• All products and the discounts can be found on my ONLINE STORE.
• Add year-end closeout items to all types of orders.
• Clearance Rack items are available while supplies last.
• At the end of the sale, some products may remain on the Clearance Rack.
•Any inventory items will discounted through January 3, beginning
January 4, they will be available at the regular price.
Retiring Holiday Items
•Rules for  Retiring products:


• Retiring stamp sets will be available until December 21.
After that day, they will be only available while supplies last.


        •

Retiring accessories will be available while supplies last.


•

 Retiring items will only be available while supplies last.

After January 3rd, 2017, retiring items will be unavailable.
The lists will be updated Monday through Friday at 4:00 PM (MT).
• Year-End Closeouts are eligible for Stampin' Rewards with qualifying orders.
• New demonstrators may add Year-End Closeouts items to their Starter Kit.
• Items and discounts may vary by market depending on inventory levels.
Note: You will notice that the bundles are on the discontinued list and yet, some of the stamps and die cuts may be carried over seperately.  Bundles are only available in the current catalogue and will not be carried out.
Create this cute card with the three Christmas Mice decking the halls.
Hurry to the ONLINE STORE before items are sold-out.
Product List