Three 2017 Paper Crafting Trends That I See – Do You Have A Favorite
Three 2017 Paper Crafting Trends
As we begin the new year, what do you think will be the top 2017 Paper  Crafting Trends?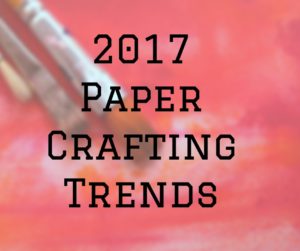 Going through the 2017 Occasions and Sale-a-bration catalogues, several products piqued my interest as trends.
Colouring continues to be a trend in 2017.  There are 2 new products in the  catalogues I am sure will be on your list. First, is the Watercolor Pencils.  Use the high quality pencils to watercolor stamped images or to create backgrounds.  The color will move around when you use either the Aqua Painter Brushes and/or the Blender Pens. The colors offered are in the current Stampin' Up! colors.
The second product is the Inside The Lines Designer Series Paper, a Sale-a-Bration item.  The paper is printed in black and white with 2 sheets of 4 different designs.  You can earn the paper for FREE by having a $60.00CDN (shipping and taxes not included) order. Match the paper to any stamped image to create a WOW project.
The second trend are the whimsical flying creatures.   A new stamp set in the 2017 Occasions catalogue is the Dragonfly Dreams.  This is a two-step stamp set with matching dragonfly thinlits. There are people who believe that the dragon symbolizes transformation and mystic.   Here is a link to an article that you may peak your curiosity.  Dragonfly Symbolism
The bee is often seen as a symbol of tenacity.  Aerodynamically, the bee should not be flying.  But because they don't know this, they fly anyway. Maybe we need to take an approach to life like the bee.
The third trend is Succulents. Actually i didn't even know that Succulents are a trend until I saw that new Occasions Catalogue.  The Oh So Succulent stamp set and matching framelits lend themselves to many different projects….scrapbook pages, cards and 3-D items.
Three reasons that Succulents are trendy:
People are living in smaller spaces and don't have room for large gardens.  Succulents can live inside or outside.
It is easy to care for Succulents.  They do not require tons of water, they are fire-resistant and can act as a fire retardant in areas that are susceptible to wildfires.
Succulents come in many colours, not just green and they do produce vibrant flowers.  So, what is not to love about succulents.
Trending Products

These are my three 2017 paper crafting trends, what are your 3 top trends for 2017.  Leave me a.comment.  I would love to hear or see your ideas.