Thoughtful Branches Bonus Points
Thoughtful Branches And Bonus Points
What are the Thoughtful Branches?  This is a stamp set and matching framelits that you will be able to purchase during the month of August.
And, the best part is that during July you can earn Bonus Points.  Between August 2nd and 31st, you can redeem your coupons on any order.
Bonus Points

Earning Bonus Points is as easy as 1, 2, 3.
During the month of July, order a minimum of $60.00 and you will earn a $6.00 coupon.  Orders with increments of $60.00 will earn multiple bonus points.  For example, if your order is $120.00, you will receive 2 – $6.00 coupons.
You must follow these instructions to redeem your coupons in August.
 

Bonus Days coupon codes will be delivered to participants via email. 

Therefore, you must have an email address on file.
I strongly recommend that participants save the emails containing their Bonus Days coupon codes.
Write down the coupon codes in a safe place—the codes cannot be resent if the participant loses the email.  Demonstrator Support cannot recover lost codes.
Participants will receive a $6 CAD Bonus Days coupon code via email for every $60 CAD they spend in a single order (catalog price before shipping and tax). There is no limit to the number of coupons participants can receive per order or throughout the duration of the promotion. There is no limit on the number of coupons participants can use on an order during redemption.
Bonus Days coupons codes can be used in the checkout process during the redemption period.
All order types qualify for this promotion, for example, workshop orders, customer orders, online orders, in person,  phone order, and/or email..
Bonus Days coupon codes are redeemable for any product, except Starter Kits and Paper Pumpkin subscriptions.
And, yes, the Thoughtful Branches stamp and framelits are eligible for Bonus Coupons.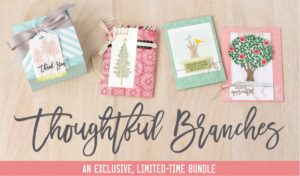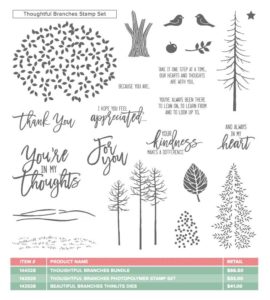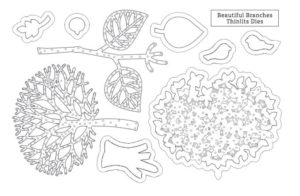 Dates to Remember
Promotion period: July 7–31, 2016
Promotion Deadlines:

PHONE/FAX/MAIL:

July 29, 2016 by 6:50 PM (MT)

OEX/ONLINE:

July 31, 2016 by 11:50 PM (MT)
Redemption period: August 2–31, 2016
Redemption Deadlines:

PHONE/FAX/MAIL:

August 31, 2016 by 6:50 PM (MT)

OEX/ONLINE:

August 31, 2016 by 11:50 PM (MT)