The Telephone – Do We Love It or Hate It
The Telephone – Is It a Love – Hate Relationship?
The telephone, could we do without it?
Today, March 10 is the anniversary Alexander Graham Bell's first telephone call in 1876.  Little did he know what was in store for all of us down the road.
Remember when we had operators and had to give them the number, or 3 rings was your number and everyone on the same line knew you had a phone call?  Ok, now I'm dating my self.  The rotary dial telephone made way for the touch phone and now you can even talk to your phone to have it get in touch with someone.
While, the telephone can be a blessing, it also can be a hindrance.
Here are my 3 reasons for considering the telephone a blessing:
Provides a way to keep in touch with family and friends and often provides safety.
Provided the corner stone for the internet…remember dial up modems?
Provides convenience as we have moved to the  mobile and cellular age.
However, I also have 2 very strong reasons why I am not particularly enamored by the telephone.
Have we lost the art of communication on a face to face basis?  See how many people around you are texting to the person next to them.
Invasion of privacy caused by phone solicitations.  These phone calls usually come when it's inconvenient and sometimes the people even will argue with you have you have politely said "No Thank You". We now have moved to automated sales calls where you don't have a chance to say "No Thank You!.
So here is my tribute to Alexander Graham Bell.  I designed a card for him in MDS….I have to start using this more or I will loose the skills that I have gains.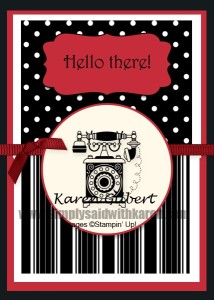 Creating in MDS is so easy.  The card feature the Timeless Talk brush stamp, Modern Medley DSP and Real Red Grosgrain Ribbon.
Thank you Alexander, even with the dislike on some days for the telephone, you have improved lives all over the world.
Interested in MDS?  Download the FREE trial HERE.
Happy Stamping