The Best Handmade Father's Day Card
The Best Handmade Father's Day Card with My Paper Pumpkin

Creating a card and a gift bag for Dad's Day is so easy with My Paper Pumpkin.  This is the May 2014 My Paper Pumpkin kit and it has everything you need.
The kit comes complete with 4 cards, 2 gift enclosure cards, bakers twine, die cuts, stamps, ink spot and die cuts.
What could be easier.  The stamp set is great as it has a "Happy Father's Day" sentiment and a "Happy Birthday" sentiment.  You can also personalize the sentiment with "Dad', "Bro" and Son".
I made 2 cards for 2 Dads and then used the 2 other cards to make gift bags.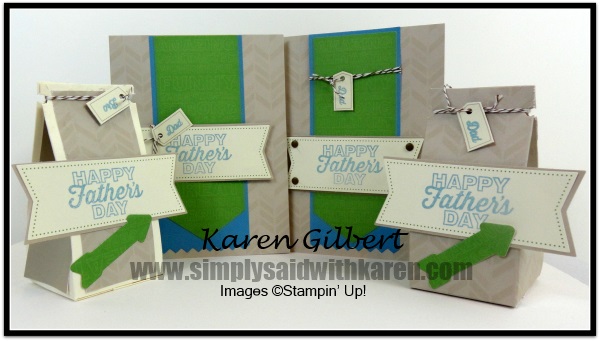 I tried to do a video to show you how the boxes from the cards were created, however, it did not turn out, so I will have to give you the instructions here.  Click on Link below for a PDF.
After forming the box, pinch at top to make a soft pleat in each side.
Using a Crop-a-Dial and the largest punch, and keeping the top pinched, punch a half hole on either side.  Wrap the Baker's Twine around to keep the box closed.
Decorate as you wish.
Did you know that you can now pre-pay your subscriptions?  Yes, 1 month, 3 months, 6 months or  12 months.  – Kind of like set it and forget it!  Giving My Paper Pumpkin as a gift and setting up a subscription will ensure that the giftee receives the My Paper Pumpkin each month hassle free.
Find out about My Paper Pumpkin
Any questions? Please contact me –karen@simplysaidwithkaren.com
Happy Stamping