Thank You with a Cup of Thanks
Thank yous are so important.
We all love to receive a thank you from someone that we have done something for.  It could be as small as saying thanks for passing the salt, or it could be that you have gone above and beyond for someone.  And of course between the little thanks and the huge "gone above and beyond thank you, there is always someone that has helped you out.
We tend to send Thank You cards for the large events in our lives but wouldn't it be nice to send a Thank You to someone who was just there at a particular moment in time.  Maybe it was a retail clerk, or a server in a restaurant or maybe even the person who helped you with the groceries out to the car.
There are big elaborate thank you cards but why not keep a few little thank you cards in your purse to give to people on the spot.  It's a great way to recognize people.
My card share today is a cup of thanks using the Tea Shoppe stamp set.  As soon I as I saw the Pop 'n Cut die, I had this stamp set in mind to use to create a card.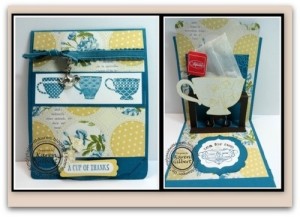 Stamps: Tea Shoppe (c – 125547, w- 125545, p57 2012/13 Annual Catalogue)
Paper: Indigo Island, So Saffron, Whisper White, Early Espresso, Teas for Two DSP
Ink: Early Espresso, Island Indigo
Accessories: Big Shot, Card Base Pop 'n Cuts, Dress Form Pop 'n Cuts,  Label Framelits, Lacy Brocade Embossing Folder Word Window Punch, Modern Label Punch ,Markers:  Lucky Limeade, So Saffron, Early Espresso, Island Indigo, Versamark, White Embossing Powder, Island Indigo Ruffled Ribbon, Tea Time Trinkets, Tea Bag
Just a few things about how I put the inside of this card together.
A piece of Early Espresso was run through the portion of the die cut where the dress form cut out is located. This piece was then attached to the bottom of the dress for to appear as a table.
Two cup images where stamped, one in versamark and embossed with white embossing powder and the other stamped with So Saffron ink.  After fussy cutting the two images, they were attached together along the handles, sides and bottom.  Do not glue the tops together.
Attach the cup to the die cut portion and trim the dress form behind the cup.  Trim only as much as you need so that it cannot be seen. 
Insert a tea bag into the cup and send it off.
I know that this card is rather fussy with all that is going on, however a thank you card can be a clean and simple card.  Actually it's the thought that counts and not necessarily the card, although it is tangible.
So thank someone today  – big or small
Happy Stamping!