Take a Hike Day and Get Back to Nature
Take a Hike Day is November 17th and what a great way to get outside and enjoy nature and the fall season.  Nature has a way of reinvigorating us with her beautiful colours.  Right now, the leaves are in full colours from orange, to purple, to bright red with a tinge of green.  Soon enough those leave that are so beautiful right now will be gone and then the snow will be here.
Getting out for a hike with your family or friends is a wonderful way to get some exercise and fresh air.  As fall closes, so do our windows so take advantage when you can.
The card today represents nature and reminds us of those beautiful fall colours and I hope that it inspires you to get out on November 17th to celebrate Take a Hike Day.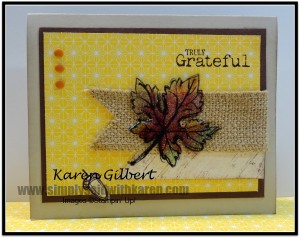 Recipe
Stamps: Gently Falling (c – 123804 w- 128430, p65 2013/14 Annual Catalogue), Truly Grateful (c – 131733, w- 131730, p19 2013 Holiday Catalogue).
Paper: Natural White, Early Espresso, Sweater Weather DSP, Window Sheets.
Ink: Early Espresso, Soft Suede, Black Stazon.
Accessories: 1-1/4" Burlap Ribbon, Bright Candy Dots, Markers: Pumpkin Pie, Old Olive, Rich Razzleberry, Daffodil Delight, Dazzling Diamonds, Crystal Effects.

This card was really fun to make and I did give it my chiropractor as I am truly grateful for the care that I have been given by him and his staff.  Now, the sciatica is gone (cross my fingers) and there is still some aches and pains but my quality of life has improved a great deal.
The leaf was stamped using Black Stazon ink on the Window Sheet.  I then turned the leaf over and coloured it in with various markers to give it that regal fall look.  Once the markers were dry and yes it may take a couple of minutes because the ink from the markers do not absorb into the Window Sheet, Crystal Effects was applied to the whole leaf and then dipped in Dazzling Diamonds.  
Set the leaf aside to dry and while you are waiting, you can assemble the various layers on the card and stamp the sentiment.  A very effective card but easy peazy.
The Gently Falling stamp set is a two-step stamp set and you can use the solid stamps and the outline stamps together or separately.  It's your choice.  Isn't great to have choices.
To view the details on this stamp set, use this link to my ONLINE STORE.
So, get out and celebrate Take a Hike Day and then come home and stamp
Happy Stamping