Stay Up-to-Date with Latest Craft Information – Join My Mail List
Stay Up-To-Date – Join My Mail List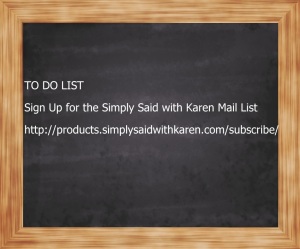 Make sure you stay up-to-date with new ideas for paper crafting.  Fashion and decor trends come and go and so do paper crafting trend change.  With each season fashion and decor change, well, so does paper crafting.
Often the trends in paper crafting mimic the trends in fashion and decor.  Today, the 2015 Occasions catalogue goes live as does the Sale-a-Bration brochure. As you thumb through these two catalogues, I am sure that you will find many changes and trends.
Why not stay up-to-date with the trends and join The Simply Said with Karen mail list.
The Simply Said with Karen newsletter is published each month and contains class schedules, links to blog posts, projects, techniques, questions and answers.  Each of the projects (could be a card, scrapbook page or a 3-D item) come with supply lists as well as step by step instructions.  I also let you know about the any specials and/or promotions that Stampin' Up! is offering.
You may receive other emails during the month (I like to keep these to a minimum), with information pertaining to crafting and/or opportunities that may come along.
For more information on the benefits of joining the Simply Said with Karen Mail List, here is the  LINK and SIGNUP FORM.