Stamping Poppies on Canvas
Stamping Poppies and Other Flowers Help To Make It Spring
Stamping poppies and flowers makes me feel like Spring even though the weather here is COLD!  I know that in other areas, people are experiencing more winter and the snow just doesn't seem to want to go away.
Does anyone feel like this?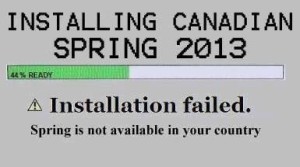 Actually, I used a fun technique on this card and I am really happy as to how it turned out.  Instead of using card stock to stamp the image on, I used the Canvas Creations.  Hmm, maybe I always wanted to be Van Gogh, or Picasso, or???  – Not. But I did want to try out this new product from Stampin' Up!'s Spring Catalogue.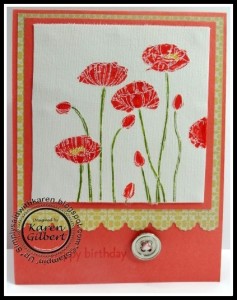 Stamps: Pleasant Poppies (c – 129499, w- 126480, p129 2012/13 Annual Catalogue), Family Reunion (c – 122712, w- 122710, p138 2012/13 Annual Catalogue
Paper: Calypso Coral, Tea for Two
Accessories: Big Shot, Finishing Touches Edgelits, Versamark, White Embossing Powder, Clear Embossing Powder, Canvas Creations, Markers: Calypso Coral, Lucky Limeade, Daffodils Delight, Silver Designer Buttons, Calypso Coral Baker Twine
As I was writing up the recipe, I noticed that I didn't use any ink except for Versa Mark, and I'm not sure that this is considered really ink.
Anyway back to the technique:   I stamped the poppies using Versamark onto the canvas and then embossed them with White Embossing powder.  Then, I got out the markers and went to town colouring.  I really like the effect that the canvas gives and with the embossing the ink from the markers are resisted from the canvas.
Just a reminder that the Spring catalogue is around for another 6 weeks and when it goes, so does the Canvas Creations.
So, get out your flower stamps and stamp up a little bit of Spring .

PS, did you see or hear about the colour renovation that Stampin' Up! has in store for us in 2013?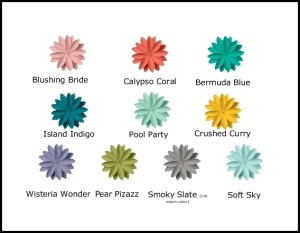 Enjoy and Happy Stamping