Stamping Craft Mistakes – Opportunity to Learn And Improve
Stamping Craft Mistakes
I consider my stamping craft mistakes opportunities to learn and improve my stamping capabilities. This card does have a mistake and I will tell you about it and how I will improve on the next stamping project.
I created a shaker card using the Jar of Love stamp set and the matching Everyday Jars Framelits.  This stamp set has very cute sayings and the one I chose is "Best Fishes", so of course I there is a  fish inside the jar and the blue beads depict the water.
First, let me give you some highlights of this card. The stamps and matching framelits really lend themselves to making shaker cards.  I love to create shaker cards as it adds an element of surprise for the person who receives it.
The blue shakers inside the card are beads that Stampin' Up! carried in years gone by.  So you just never know when supplies that you have had for a long time will come in handy.  As you notice, the beads are lying up the side of the jar instead of resting in the bottom as the other beads.
Opportunity to Learn
So why did this happen? Foam Adhesives Strips were a new catalogue product this year. They can be used for 3-D items or where you need to pop- up a product like the Window Sheets.
Unfortunately, some of the sticky from the adhesive was exposed which caused the beads to float to the side of the jar when I shook the card.
Therefore, this is what I learned because of this mistake.  After applying the Foam Adhesive Strips around the outline of a framelit, take a Q-tip, pounce it on the Embossing Buddy and swipe the inside of the adhesive strips.  Be careful not to get any of the powder from the Embossing Buddy on the side that will be stuck to the Window Sheets or cardstock.  If you do, then the layers will not stick together.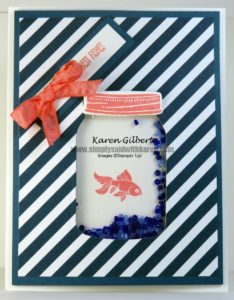 Recipe
Stamps: Jar of Love.
Ink/Markers: Flirty Flamingo.
Paper: Whisper White, Dapper Denim, 2016-18 In Color DSP Stack, Window Sheets.
Accessories: Big Shot, Everyday Jars Framelits, Flirty Flamingo 3/8" Ruched Ribbon ,Foam Adhesive Strips,  Blue Beads.
To see another post using the Jar of Love Stamp set and coordinating framelits, use this LINK.
So, you make stamping craft mistakes, think of it as opportunities to learn and improve.
Good luck!
Product List