Special Birthdays Get More Special When You Are 99
Special Birthdays Call For a Celebration
I would call your 99th Birthday one of those special birthdays.
Yes, one of my uncles is turning 99 this month.  It can't get much more special than that.
Can you imagine the changes that he has seen in his world?  When he was growing up, there were 2 world wars, the horse and buggy were a way of life, you were lucky to hear news on a radio, and there was no such thing as getting on a jet plane for a vacation.
What about all those modern conveniences or in some cases nuisances? There is the speed in which we now communicate with cell phones, the internet, texting and the like.  Who ever thought that you could cook your dinner in 3 minutes by taking it out of the freezer and popping it in the microwave?
Things that we now take for granted such as electricity, indoor plumbing, going shopping at the grocery store.  I could go one but I won't.
Yes, my uncle turns 99 years old and he was a good Canadian farmer, living on a farm, growing the wheat, then harvesting it and sending it off to be milled for flour.
We need to celebrate those special birthdays.  Here is the card that he received.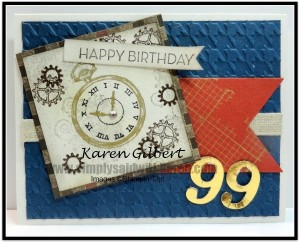 Recipe
Stamps: Clockworks (c-127292, w- 131973, p 109 2013/2014 Annual Catalogue), Off the Grid (w- 130736, p108 2013/2014 Annual Catalogue).
Paper: Naturals White, Midnight Muse, Cajun Craze, Gold Foil, Well Worn DSP (retired).
Ink: Black Stazon, Early Espresso, Gold Metallic, Versamark.
Accessories: Big Shot, Houndstooth Embossing Folder,  Die Cut Letters (retired), Espresso Embossing Powder, Gold Embossing Powder,  7/16" Trim.
I choose the Clockworks stamp set as I felt that it depicted the passing of time and 99 years is a lot of time passing.
The Naturals White panel was stamps with the various cogs in the stamp set.  The stamps were inked in Early Espresso and stamped off on a scrap on paper before stamping on the card stock.
The image of the watch is embossed with Gold Embossing powder as are the hands on the watch face.
Are you looking for a stamp that depicts the passing of time?  You can order it from my ONLINE store.
So if the birthday is for a 1 year old all the way to …who knows.., celebrate those special birthdays.
Happy Stamping