Sochi 2014 Olympic Athletes Go For Gold
Sochi 2014 Olympic Athletes Go For Gold

The Sochi 2014 Olympics officially get underway today with many athletes pursuing the ultimate goal – GO FOR GOLD.  All over the world, people are supporting their favourite teams in a multitude of events.  Many new events have opened up for these 22nd Winter Olympics.
Controversy prevails at these Olympics with threats of terrorism, human rights violations, venues not completed, and dangerous conditions on some of the event runs. Despite the controversie, the athletes are there, ready to go, after many years of preparation and sacrifice to get to the ultimate pinnacle in sport – the gold metal.
We, that sit on the sidelines, need to support the endeavors of the athletes and appreciate the time, effort and tenacity that they have shown to "GO FOR GOLD"
In support of the athletes, I have created a card and box using the appropriately named card kit "Good as Gold".  This card kit is one of the Sale-a-Bration Free items that you can receive when you place a $60.00 Stampin Up order.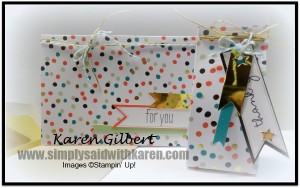 This "Good as Gold" kit come with everything you need to complete 8 cards or whateveryou choose to make.  I created a gift box from one of the card bases (idea came from Dawn Olchefske) and it will hold a couple of treats.  What a great way to say "thank you" or perhaps a "thinking of you".

Order your Stampin' Up! products from my ONLINE STORE (minimum order $60.00) to receive your FREE Sale-a-Bration products.
Good luck to our Canadian Sochi 2014 Olympic athletes as they go for GOLD.
Happy Stamping