Shine Your Light With The High Tide Stamp
Shine Your Light
Even when the days are dark and dreary, you can shine your light. First, though, I would like to talk about this card. Love, love this stamp set, but then, I like anything to do with water. As I looked at this card today, it seemed so fresh.  This card speaks to me of calmness and serenity.
Why did I need calmness today?  Frustration was the key word for last week.  I installed some new software a week ago Friday and have spent the week talking to support people.  So far, they haven't been able to determine the problem or problems.  It's just annoying as I am somewhat computer literate and usually I am able to solve my own problems.  But, not this one.
So, I needed to go to my happy place and just craft.
By using the masking techniques and 2-step stamping, you can easily create this card.  Not only is this card easy to recreate, it is suitable for several occasions and people.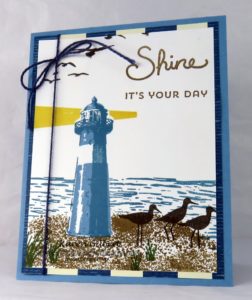 Recipe
Stamps: High Tide, Sunburst Sayings.
Ink/Markers: Marina Mist, Soft Suede, Chocolate Chip, Garden Green, Daffodil Delight.
Paper: Whisper White, Marina Mist, By the Shore Designer Series Paper.
Accessories: Night of Navy Solid Baker's Twine.
Here are some details so that you can recreate this card:
Start with the ground and grasses.  You will notice that the ground stamp has a cut-out.  This cut-out is a placeholder for the light house.  Use the smaller ground stamp that you can use to fill in missing spots. Stmp the grasses.
Stamp the lighthouse on a piece of scrap paper and cut-out..  Sticky notes are great for masking.
Stamp the lighthouse. Use the less solid stamp to stamp the ink at full strength. Line up the stamp with the blank space in the ground and stamp.  Ink the solid stamp and stamp off once.  Stamp over the first lighthouse image.
 Now you will need the lighthouse image you stamped and cut out from the scrap paper.  Line up the scrap paper over your stamped image. Ink the wavy water stamp, and stamp over the masked lighthouse and line up with the ground. Use the small water stamp to fill in the bare spots.
Without removing the mask, stamp the light from the lamp.
Add the birds to your card.
Remove the masks and you have a beautiful stamped images.
WOW!! I didn't even use the Big Shot
For another sample of the Masking Technique, click on the following link Milestone Birthday Celebration
If you want to create your own shine your light project and don't have the supplies, you  can purchase from my Online Store.
Product List