Send a Beautiful Handmade Sympathy Card To Convey Your Thoughts
Beautiful Handmade Sympathy Card
A beautiful handmade Sympathy card will send a message to console the person receiving the card.  It's often difficult to create a sympathy card because it generates sad feelings.  However, it can bring solace to the person left behind.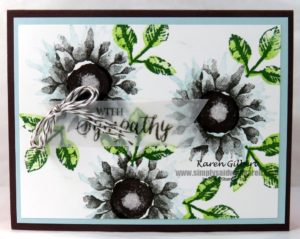 Recipe
Stamps: Painted Harvest, Rose Wonder.
Ink/Marker: Soft Sky, Chocolate Chip, Garden Green, Lemon Lime Twist, Early Espresso.
Paper: Whisper White, Chocolate Chip, Soft Sky, Vellum.
Accessories: Banner Triple Punch, Early Espresso Baker's Twine.
Sometimes less is more and this concept is what I went for with this card.  For this card,I attempted to keep a lot of white space on the card front. I achieved this by only stamping 3 flowers and their leaves on the card front.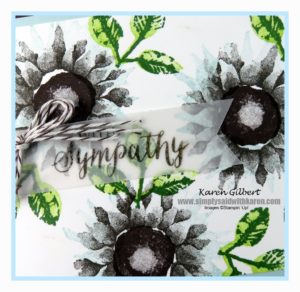 Details
Stamp the sentiment on Vellum Paper so you can still see your beautiful images on the card front.  This paper is not porous so the ink does not soak into the paper and dry quickly.  Therefore, I had to be careful not to smudge the ink before I could dry the ink with the Heat Tool.  If you don't want to use the Heat Tool, stamp your image and then set aside to dry.
The flowers and leaves are 2-step stamps.  That is, to completely stamp the image, there are 2 different stamps that you can ink.  I chose Soft Sky and Chocolate Chip inks for the flowers. When you look closely at the flower and leaves stamp, you will notice that one stamp is more solid than the other.  Ink the more  solid stamp with the lighter colour (Soft Sky) and ink the less solid stamp with the darker color (Chocolate Chip).  Layer this stamp over the  Soft Sky image.  Obtain a different look by stamping the dark color ink first and then the light color ink.
You can decide whether or not to stamp the leaves on the card front or stamp on a piece of cardstock and punch using  the leaves punch. Purchase the leaves punch and the Painted Harvest stamp set and receive 10% off the price when you purchase separately.
What would your ink color choices be if you create a beautiful handmade sympathy card.  Leave a comment and let me know your thoughts.
Product List