How to prevent identity theft from happening
Prevent Identity Theft – Protect Yourself
Before outlining ways to prevent identity theft, let me give you the definition of identity theft.
It is the fraudulent acquisition and use of a person's private identifying information, usually for financial gain.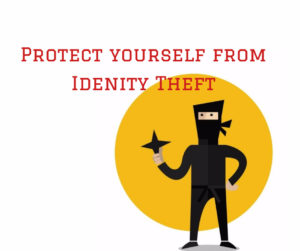 So in essence, it is anybody who obtains and misuses your identify without your knowledge. It happened to me and it caused time and effort to take care of the fall out.
Someone stole my mail from my physical mailbox and used my credit card to purchase goods.  It was the credit card company that alerted me to the fraud.  I felt violated.  I spent a great deal of time phoning various institutions to report the event.
However, those steps I took did not for far enough.  Reporting the theft after to fact did not make me safer.
I am online a great deal of time and the fraudsters are online as well.
6 Steps to Prevent Identity Theft
Use approved Online Website to review your taxes and any forms. This website is password protected and provides information pertaining to your taxes.  Secure your Social Insurance Number (SIN).  In Canada, the SIN is tied to tax filing.  Beware of calls or emails from the Canada Revenue Agency (CRA).  CRA does not call you asking for money. CRA does not send you emails asking for any personal information.
Beware of Phishing Websites.  Phishing websites want your personal information.  if you receive an email from a site that you do not recognize and it is asking for your personal information, be suspicious.  

Do Not Click on the link.

 THey are looking for your name, address, bank account information, and passwords
Use a reputable Anti-Virus Program.  Use reputable anti-virus software companies such as: Norton, McAfee, AVG

 

.  If you are online, you need to have one of these programs.  If you are wireless make sure that your wireless connection is secured by a password.  In fact, set up a firewall too.  You will usually need to purchase more than the basic virus protection to get the firewall protection.  It is worth it.  Do you download software?  Make sure it is from a reputable site.
Another key point is to use unique passwords for every site that you need to log into….bank, CRA, Health Care, Shopping sites, etc.  I use the Last Pass software which is reputable.  Last Pass stores your passwords in the cloud, will generate passwords for you using up to 10 characters, and combine letters, numbers and symbols.  There is a free version that allows the ability to generate and store passwords for a single device.  Purchase a yearly subscription and use on your personal computer, phone and/or mobile device.
Shop at Reputable Online Stores.  Many of use shop online and I am no exception.  There are ways to protect yourself against fraud when using these sites.  Check the sites you use.
Finally, do not divulge too much personal information on social websites.  You never know who is checking you out on these sites.  Usually whatever gets posted on a social website is there forever,.
Your identity is important.  Prevent Identity theft.  It's not fun.