Photopolymer Stamps Make Me A Better Stamper
Photopolymer Stamps – My Go-To-Stamp Sets
Photopolymer stamps help me to become a better stamper.  Why do I think that?  My business coach issued a challenged to write a post about exactly this topic.  I really had to think about the one product that does help me be a better stamper and it took me awhile to decide which one filled the bill.
Here are my 4 reasons:
the stamps sticky extremely well to the acrylic block.  The stickiness prevents the stamps from falling off the block and ruining my project. Having a big ink splotch on your project is no fun.
the stamps are clear which allows the 2-step stamping process to be very easy.  When trying to position your stamps, you know exactly where the image needs to be to complete the 2-step process, and you don't have to use the Stamp-a-ma-jig, thus eliminating a whole step.
The photopolymer stamps are deeply etched and therefore will make a clear, crisp image on your project. All types of inks can be used, for example, pigment and water based inks, Versamark, however, I don't used Stazon inks because you need a harsher cleaner to remove the ink.
These stamps do not cloud over time.  However, they will stain if you are using a deep colour such as Blackberry Bliss or Real Red.  The staining on the other hand, does not impact their ability to give clear images.
Here is a card that I created using Photopolymer stamps.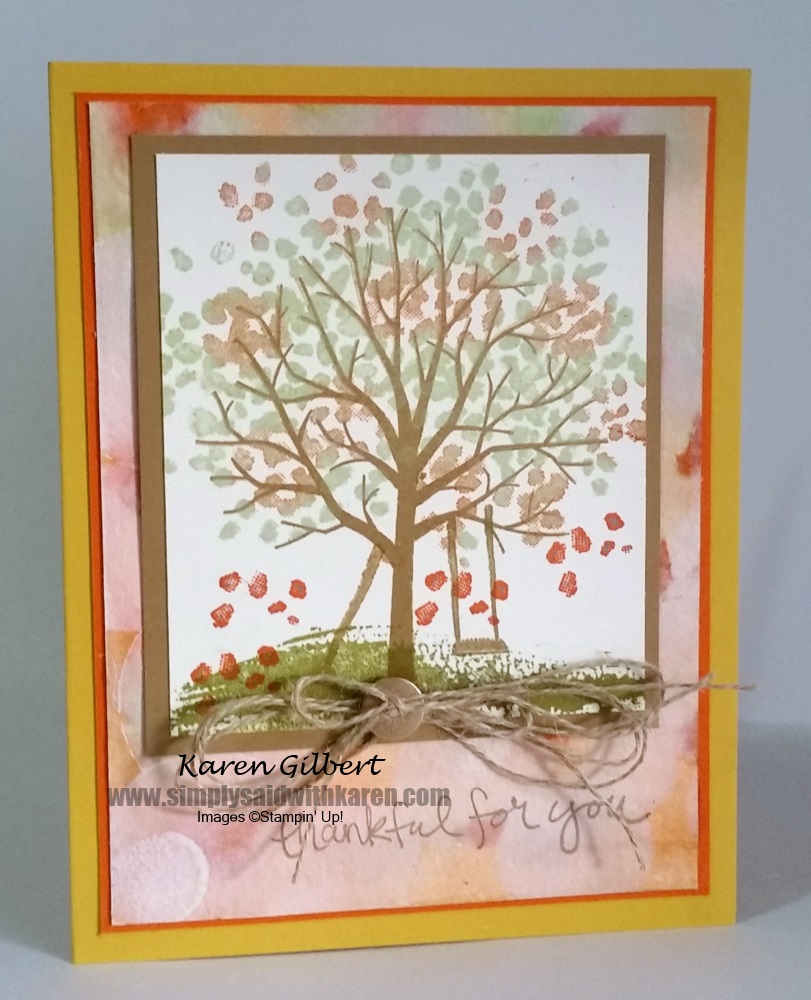 Recipe
Stamps: Sheltering Tree.
Ink/Markers: Baked Brown Sugar, Pear Pizzazz, Old Olive, Tangelo Twist.
Paper: Whisper White, Baked Brown Sugar, Hello Honey, Tangelo Twist.
Accessories: Linen Thread, Gold Metallic Metal Buttons.
The background for this card uses the bokeh effect, using watercolor paper, various colours of ink that have been mixed with water and finanlly white craft ink to complete the effect.  For a tutorial using this technique use this link.
There was some 2-step stamping going on in this card and it was easy to do with the photopolymer stamps.  First the tree was stamped using Baked Brown Sugar ink and then I was able to layer the leaves stamp over top of the tree to see where I needed to stamp the green leaves.  I then reinked the stamped to stamp the leaves in Tangelo Twist ink to make the tree look like it was fall.
There are many stamps in the Annual and Occasions catalogue to suit everyone's needs.