A Penny For Your Thoughts- Maybe a Nickel
Do you ever use the phrase – "A penny for your thoughts"?  Well, here in Canada, that penny for your thought has now gone to a nickel.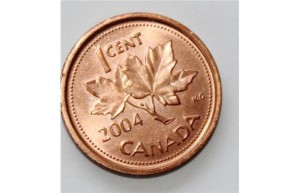 Yes, On February 2, 2013, Canada stopped minting the penny.  Why?  Because it costs more to produce the penny than it is worth – actually the cost is 1.6 cents to manufacture.  SO, it's costing Canadians a mint to mint the penny.  So how is it going to work given that the penny is still in circulation and will be for years to come.
All cash purchases will now be rounded up or down to the nearest nickel – so if your cash purchase is $1.17 – then the actual cash is $1.15, if the purchase is $1.18, then the actual cash is $1.20.  Businesses can still accept the penny, they just cannot give pennies as change.  As the pennies come into the store and the banks they will be returned to the Canadian mint. Businesses can also refuse to accept the penny as it is no longer considered legal tender.
Countries such as Switzerland, the Netherlands, Norway and Australia and New Zealand have successfully eliminated the penny and the United States is waiting to see what happens in Canada. 
So what's on the horizon?  Elimination of the nickel?  It's possible.  It sure is getting expensive for a thought!
So, when I was looking through my cards, I found this "Thinking of You" card and thought it would go nicely with my blog post today.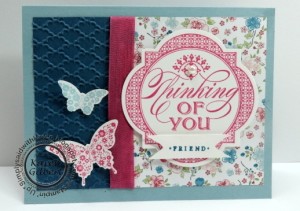 I created this card for a friend to let her know that I was thinking of her.  Thinking of You cards are great because you can send them to anyone at anytime to let them know that they are in your thoughts and yes, it now costs 5 cents for that thought.
Stamps: Just Thinking (w- 129940, 2013 Spring Catalogue), Papillon Potpourri (c – 123759, w – 123757, 2012/13 Annual Catalogue)
Paper: Baja Breeze, Midnight Muse, Whisper White, Twitterpated DSP
Ink: Primrose Petals, Baja Breeze, Midnight Muse
Accessories: Big Shot, Fancy Fan Embossing Folder, Window Frames Collection, Pearl Jewels, Elegant Butterfly Punch ,Bitty Butterfly Punch,  Artisan Embellishments Kit
Leave me a comment so I can think of you!
Happy Stamping
Karen