Online Stamping Techniques Class Launches Get This Class Today
Online Stamping Techniques Class
A new online stamping techniques class launches today.  It is great for all the celebrations that you may have throughout the year.  Hence, the name Celebrations Online Class.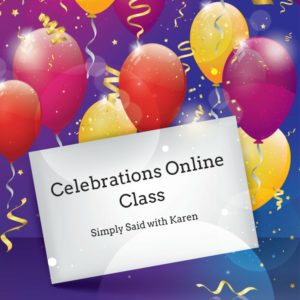 What is the Celebrations Online Class?
Craft on your own time.  Class is completely onlinee so that you can enjoy crafting anyplace at any time.
Videos show you the project "how tos".  Videos present each step in the project to give you  visual instructions to complete the projects.
The class contains 4 projects –

"How to Construct a Mini Album" – techniques and tips along the way for decoration and making the album personal.
A decorated box for storing your album.
A whitewashed technique card.
A shaving cream technique card.
Features:
Class is delivered immediately after payment.  Purchase the class using PayPal.
All projects come with a PDF for you to print and itemizes the supplies required to complete the project.  Measurements for cardstock, papers and embellishments are provided.
Put your own touches on your projects to make them uniquely yours.  Change up the colors, stamp sets, die cuts, and embellishments.  Use the class as a jumping off point for your paper crafting.
Learn more follow this LINK
You can always contact me if you have any questions regarding this class.
For other Online Technique Stamp classes, click on this LINK