Mother's Day with A Sneak Peek
Mother's Day is just around the corner.
Mother's Day is this coming Sunday, May 12th and it's a day to celebrate our Mothers and it is also a day to celebrate those that nurture us.  We all do not have Mothers but maybe we have daughters, daughter in laws, sisters, nieces, grandmothers or maybe it's even the one next door that check up on us to make sure that we are doing ok.
Mother's Day has been celebrated for centuries throughout the globe, however, the first modern celebrations for Mothers was started in 1908, with formal recognition of the day taking place in 1914.  In the beginning, the celebration was to recognize the Mother of the family and not others.  Hence the spelling of Mother's Day as opposed to the plural, Mothers' Day.  However, over the years, the celebration of Mother has expanded to include many.
Gifts for Mother's Day have centered around flowers especially in North America.  Here in Canada, Mother's Day flowers are abound as many people start planting their gardens for a summer with colour.
Along with the Mother's Day card I have to share with you, this card also uses some new products from the Stampin' Up! 2013/14 Annual catalogue that will be available to start order from on May 31st.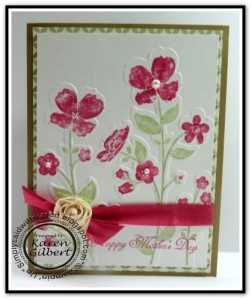 This card uses the new background stamp, Wildflower Meadows which also has a matching embossing folder.  The embossing folder can be purchased separately.
The flowers and leaves on the stamp were colored using Stampin' Up! markers, and while it took a bit of time, I am happy with the way the images turned out.
Stamps: Wildflowers Meadow, (c – 129168, w-129165 2013/14 Annual Catalogue), Celebrations (Retired Hostess)
Paper: Whisper White, Burnt Brown Sugar, Gingham Garden DSP
Ink: Rose Red
Accessories: Big Shot, Wildflower Meadow Embossing Folder, Markers: Rose Red, Pear Pizzazz, Rose Red Seam Binding Ribbon, Pearl Jewels, Vanilla Flower Trim
I used a couple of other new products, the Burnt Brown Sugar card stock the the Gingham Gard DSP which is so bright and cheery.
When giving a handcrafted card, sometimes we don't put a verse on the inside.  However, some find it difficult to find the words to convey the meaning, so a good source for wonderful verses is the internet.  I copy and paste on a piece of card stock and then insert into the inside of the card with adhesive.
This is a verse that I found on the website Verse 4 Cards that permits you to download verses for free. 
For all the times you gently picked me up,
When I fell down,
For all the times you tied my shoes
And tucked me into bed,
Or needed something
But put me first instead.

For everything we shared,
The dreams, the laughter,
And the tears,
I love you with a "Special Love"
That deepens every year.

Happy Mother's Day
Here is the link to the website: http://www.verses4cards.co.uk/mothers-day-poems.html
Happy Mother's Day and Happy Stamping.