Mother's Day wouldn't be Mother's Day without Flowers
Mother's Day is probably the busiest day of the year for Flower Shops, with the exception of Valentine's Day. 
I know that my Mother enjoys getting flowers on any occasion or a just because occasion.  So along with the cards I created, I also created 3 vases of flowers; one for my Mom, one for my DD and one for my DIL.  I know that these will last much longer than the fresh ones.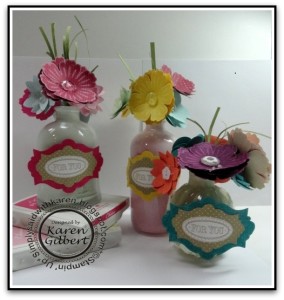 I used a number of the new colours in these flowers and the vases.  Can you guess which ones?
Ok, I used Bermuda Bay, Burnt Brown Sugar, Pistachio Pudding, Strawberry Slush, along with a retiring colour, Baja Breeze and the Designer Series Papers Stack.
The vases are recycled and I used a mixture of white acrylic paint and reinker to give them their colour. Once you have mixed the paint colour to the shade that appeals to you, pour the paint mixture into the vases and swirl and roll to cover the inside of the vase. I found that the acrylic paint should be too thick or it takes quite a bit of time to cover the inside of the vases. 
After the paint adheres to the inside of the vase, turn it upside down to have the excess paint drain out.  Turn the vase right side up and you can let it dry or put it in the oven and set the temperature at 350 degrees and bake for 10 minutes.  Turn the oven off and leave the vase cool down in the oven.  Remove the vase when the oven is cold.  If you remove the vase to soon, it may crack.
Decorate the outside of the vase as you wish.
These flowers and vases would be great to give to anyone at anytime or maybe even give one to yourself.
Don't forget that time is running out for the retired stamps and the accessories.  You have until June 3rd to take advantage of the stamps and accessories.  Accessories are available until they are sold out, so if there is something you just have to have, visit HERE
Happy Mother's Day