Make and Takes 2
Make and Takes 2 takes you through the remaining 2 projects that we were given to do during Convention. As promised I am going to show you these 2 stinking cute projects!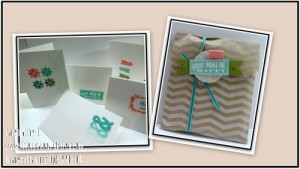 Note Cards with Packaging
Sometimes we are looking for a note card to send to someone.  These note cards make a fabulous gift and when you package them in the Tag a Bag bags you have just stepped up your gift – who wouldn't love to received these first as a gift and then a note from that person to someone else – Share the Love, make it a Random Act of Kindness, Pay it Forward.  You will likely bring joy to someone's life.
The note cards come with their own envelopes and measure 5″ x 3-1/2″ – there are 20 note cards and 20 envelopes – all Whisper White.
The stamp set used for this project is Hello, Lovely (c –  #130243, w-  #130240 p22 2013/14 Annual Catalogue) and the colors are Bermuda Bay, Calypso Coral, Old Olive and Coastal Cabana
The final Make and Take 2 is a cute little card – actually it probably could be classed as a Clean and Simply card – sort of.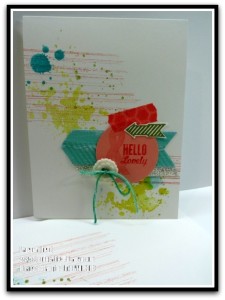 Again, this card uses the Hello, Lovely stamp set and the Gorgeous Grunge stamp set (c-130517, c – 130514, p109 2013/14 Annual Catalogue)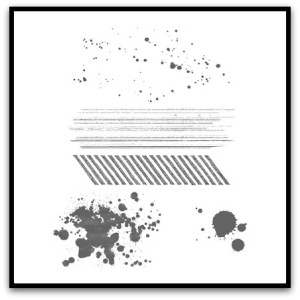 I think will will get a lot of use from this stamp set with its funky splatters and lines. I decorated the envelope…gives the mail carrier something to look at when they are delivering the mail
So, I will leave you with …"We Can Make A Difference"
Happy Stamping
I hope that you have enjoyed the information I shared about Stampin' Up!'s 25th Anniversary and the fun times we had.  A packed few days and I think that I am finally rested up…Thank goodness.