Magic is so illusive and can come in many forms. The main question when there is magic, is "HOW DID THEY DO THAT"!
I love to create magic for my customers and today, I am going to let you in on a few of my secrets.
One of the most important things in my business is providing  customers with good customer service.  How do I do that?  It's about answering their questions, giving them timely and valuable information on products and promotions, and showing them how to make WOW projects.
And how do I do those things…sending out a jammed packed monthly newsletter, updating my blog with projects, providing videos that show them how to use different tools and of course there are those ever important techniques.
Are you on my email list so that you receive those jammed packed newsletters?  If not, then click HERE and fill out the form.  And for you time,  you will also receive a thank you gift.
Another way I like to add magic for my customers is showing them how to make their own magic through creating projects, whether it's cards, scrapbooks, decor items and/or gift packaging.
So here is another secret, showing how to take a simple, pretty card and adding a few more elements and making it a WOW card.
The first card is a clean and simple card and at the same time pretty and would be suitable for any occasion.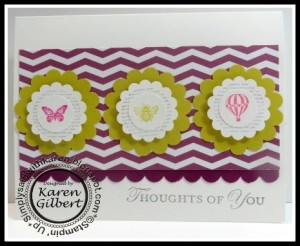 The next card is a stepped-up version which some additional elements and products used.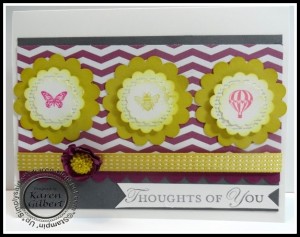 What do you think? You find the magic in this card?
Stamps: Collage Curios (c – 129102, w- 129099, p24 2013 Spring Catalogue), Loving Thoughts (c – 122712, w- 122710, p138 2012/13 Annual Catalogue), Loving Thoughts (c – 125845, w- 125843, p136 2012/13 Annual Catalogue)
Paper: Whisper White, Basic Grey, Rich Razzleberry, Summer Starfruit, Sycamore Street DSP.

Ink: Melon Mambo, Summer Starfruit, Basic Grey,
Accessories: Summer Starfruit Dahlia, Summer Starfruit 1/4" Stitched Grosgrain Ribbon, Punches: 1-3/4" Scallop Circle, 1-1/4" Scallop Circle, Scallop Edge Border, 7/8" Scallop Circle, 3/4" Circle.
So what's different?
On the second card, the 3/4″ circle punch was swapped out for the 7/8″ Scallop Punch, the Basic Grey card stock, ribbon and flower were  added, and all the circles were sponged with Summer Starfruit ink.  The flower was punched from Rich Razzleberry card stock using the 7/8″ scallop punch, distressed and separated into two layers and the Dahlia added to the center.  Finally the sentiment was stamped on a Whisper White flag.
The 1-1/4″ circle punch is carried over from the Holiday Catalogue and is still available
Watch for more MAGIC!
Happy Stamping